Allison earned her PhD in Molecular and Human Genetics at Baylor College of Medicine in Houston, and is now a Postdoc at Memorial Sloan Kettering Cancer Center in NYC. In lab, she studies epigenetics in leukemia, but also enjoys teaching and talking about a wide variety of scientific topics. She loves participating in outreach events and is starting to explore more avenues of scientific communication.
Discover more about Allison on their professional profiles
Articles by Allison Mayle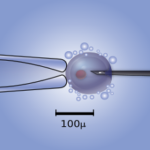 Read up on the various methods for delivering CRISPR reagents and how to choose between them.