Product Review: Snap i.d. Rapid Western blotting system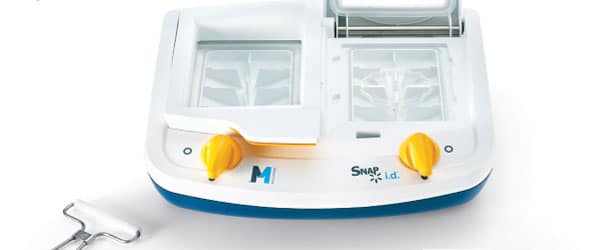 My lab recently purchased the Snap i.d. rapid Western blotting system from Millipore, and it has quickly become my favorite piece of lab equipment. The standard Western blotting procedure involves blocking for thirty minutes or more, incubating in primary antibody for at least an hour, and incubating in secondary antibody for an additional hour, interspersed with multiple wash steps. While this procedure can be completed in a day, most researchers I know stretch it out over two days by blocking or incubating in primary antibody overnight. In contrast, the Snap i.d. system uses vacuum pressure to decrease the duration of every step of the Western blotting procedure, drastically reducing total, blotting time to about thirty minutes. Here I'll give an overview of how this system works, as well as its advantages and disadvantages.
Overview
The first step in any blotting protocol is to thoroughly rinse a freshly transferred membrane. To do this with the Snap i.d. system, the membrane is inserted into a disposable blotting cassette and snapped into the vacuum apparatus. The blotting apparatus is hooked up to a vacuum trap to collect the used buffer. To wash the membrane, you simply pour the wash buffer into the blotting cassette, and turn on the vacuum (using a knob on the blotting apparatus). Thirty milliliters of wash buffer are sucked over the membrane and through the apparatus in less than five seconds, so even with multiple washes, the total prep for blocking takes less than a minute.
Blocking the membrane is as quick and simple as the washes: blocking buffer is poured into the cassette and sucked away in less than five seconds. I initially doubted that such a quick blocking procedure would really be effective, but my blots processed with the Snap i.d. system showed no more or less background than those I blotted using a standard protocol.
Incubation in the primary and secondary antibodies are the only steps that can be considered "time-consuming" with the Snap i.d. system. To ensure adequate binding between antibody and antigen, a small volume of antibody is applied to the blotting cassette and allowed to interact with the membrane for ten minutes. Once the incubation step is complete, you simply turn on the vacuum to remove the antibody solution, and wash with buffer.
Overall, the entire blotting process with the Snap i.d. system takes about thirty minutes, the time it used to take me to only block a membrane.
Advantages
The major advantage to using this system is obviously speed. While I appreciate the flexibility that my standard Western blotting protocol gives me to do other experiments at the same time, I find that the thirty minute Snap i.d. blotting procedure is short enough that I can easily fit it into a full day of experiments. The "hands-on" time is equivalent to that of a standard blotting protocol, just concentrated into a much shorter period of time. The first time I used this system I was able to pour, run, transfer, and blot a minigel within one day, a process which would typically take me two full days.
The Snap i.d. system is compatible with standard wash buffers and blocking reagents such as milk, so you don't need to purchase any specialized solutions to blot using this protocol.
This system also allows you to blot up to three membranes in one multi-well cassette, and two cassettes can be "processed" at the same time, so you can potentially run six different blots simultaneously.
Disadvantages
The most significant problem you will have in transitioning from a standard to a Snap i.d. blotting protocol is re-optimizing your antibody concentrations. The product info suggests using three times your typical antibody concentration in three milliliters of buffer (about one third of the typical blotting volume). I found that this was way too concentrated for my antibody, and ended up cutting back to virtually the same concentration of primary and secondary as I use with a standard protocol.
A second drawback to the system is that it is not designed to allow you to recover precious antibody for re-use. Millipore does sell antibody recovery trays which can be inserted under the blotting cassette before vacuuming off the primary or secondary; however, these trays are expensive, recommended for one-time use only, and the antibody collected is diluted due to residual wash buffer in the system.
Finally, unlike a standard blotting procedure, in which washes and incubations are typically performed in a reusable plastic container (tip box lids, in many labs), the Snap i.d. system requires the use of a disposable cassette for each blot, which generates waste and is a recurring expense.
Conclusion
Overall, I am extremely pleased with the way that the Snap id. Western blotting system has changed the way I do protein work. Now that it is no longer a struggle to complete a blot in one day, I can analyze samples and rework an experiment the next day, if necessary. The speed of analysis reduces the risk of protein degradation in my samples, and allows me to tweak loading volumes and sample order with a much shorter turn-around time that I would normally be able to.
The start-up package I ordered from Millipore contained a few other products, including pre-mixed blocking buffer and pre-mixed ECL solution, which make blotting even more efficient. I'm looking forward to combining this rapid blotting system with pre-cast gels and a rapid transfer apparatus, too, which should enable me to go from samples to results in half a day.
Have you used the Snap i.d. system or a similar apparatus for Western blotting? How has it changed the way you work?
This product review represents the independent opinion and experiences of the author. Neither the author or Bitesize Bio received any incentive or payment from the equipment vendors for this review.