An Easy Lysis / Homogenization Method for Any Sample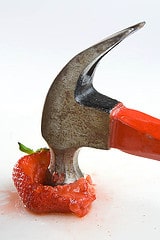 Lysis of some microbes is easy, but for others its much more difficult – I think due to differences in the make-up of their cell wall.
At the moment, one of my colleagues is preparing hundreds of cell-free extracts from microbes isolated from the environment to screen for interesting enzyme activities. Since she is processing a wide range of microbes she has to use a method that will lyse all of them – even the most difficult ones.
Unfortunately that means using glass beads and a lot of vortexing to mechanically break the cells. I say unfortunately because not only does it take her a very long time to process all of her samples, but she has a very noisy vortex mixer, which is driving me crazy!
Yesterday I came across something that could be the answer to both of our prayers.
MP Biomedicals' Fastprep-24 instrument looks a bit like a juicer, and in fact that's exactly what it is – a juicer for bacteria, yeast, tissue, bone or anything else you might want to isolate DNA, RNA or protein from. Apparently you just re-suspend your sample in a lysis matrix, transfer to super-tough 2 mL tubes, slam them in the FastPrep instrument and 40 seconds later they are homogenized. The lysis method is mechanical – the lysis matrix and the "figure-8, angular motion" of the instrument combine to tear apart even very tough samples like spores. The instrument can take up to 24 samples, giving this a far higher throughput than any conventional method that I know of.
At nearly 8000 USD/5000 GBP this is a reasonably expensive piece of kit but surely mine and my colleague's ear drums and sanity are worth that. MP Biomedicals are offering free onsite demos of the instrument so if you are interested, check out their website.
I wonder who I should speak to about getting this toy, my boss or Santa?
Photo: Neil Creek