Super Fast Immunoblotting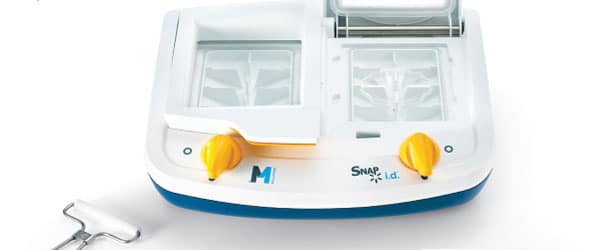 Sometimes a new product comes along and you just know that it is going to make your life easier. The SNAP i.d. protein detection system from Millipore falls into that category.
In a nutshell, SNAP i.d. is a nifty little gadget that fits in to the immunoblotting protocol after the membrane transfer step. There it dramatically speeds up immunoblotting by using a vacuum, rather than diffusion, to drive regents (antibodies and wash buffers) through the membrane.
The speed improvements that Millipore report are quite remarkable; 20 seconds for blocking, 10 minutes for each antibody incubation and just 3×20 seconds for the wash steps. This reduces the immunodetection step to just 20-30min, compared to 4 hours with the standard protocol.
This not only makes routine blotting even more routine, but faster blotting times also make it easier to optimise protocols for new antibodies. To help with this, SNAP i.d. has two chambers, to allow a pair of membranes to be run in parallel. The automation of these steps also means more reproducibilty from experiment to experiment.
Add to this that SNAP i.d. requires less concentrated reagents, and lower volumes, than standard blotting and this thing starts to look pretty attractive. If you agree, you can find more info on SNAP i.d. right here.
If you are using SNAP i.d., let us know what you think of it. Or if you don't have one but thing it looks good, try out a demo model and post your thoughts here.