I'm a Chemistry graduate who defected to the world of biosciences to complete a Ph.D. in Structural Biology. My expertise lies in the structural analysis of chemicals, membrane proteins, and protein/DNA complexes via X-ray crystallography. I currently work as a Technical Specialist in Biophysics at Nottingham Trent University. My antidote to practical science is to be outside as much as possible, usually cycling, camping, and drinking tea.
Articles by Thomas Warwick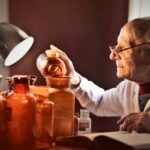 Learn about what reagents are usable past their chemical expiry date, how can you check if they are still okay, and which ones you should throw out.