I'm a Chemistry graduate who defected to the world of biosciences to complete a Ph.D. in Structural Biology. My expertise lies in the structural analysis of chemicals, membrane proteins, and protein/DNA complexes via X-ray crystallography. I currently work as a Technical Specialist in Biophysics at Nottingham Trent University. My antidote to practical science is to be outside as much as possible, usually cycling, camping, and drinking tea.
Articles by Thomas Warwick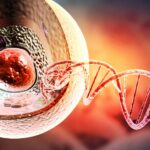 Investigating human diseases and genetic variation is complex, but CRISPR-edited induced pluripotent stem cells present a promising alternative to immortalized cell lines. This article delves into genome editing principles and offers practical steps for optimizing research techniques, ensuring more accurate and ethical studies.