Established in the mid 1970's, New England Biolabs, Inc. (NEB) is the industry leader in the discovery and production of enzymes for molecular biology applications and now offers the largest selection of recombinant and native enzymes for genomic research. NEB continues to expand its product offerings into areas related to PCR, gene expression, sample preparation for next generation sequencing, synthetic biology, glycobiology, epigenetics and RNA analysis. Additionally, NEB is focused on strengthening alliances that enable new technologies to reach key market sectors, including molecular diagnostics development. New England Biolabs is a privately held company, headquartered in Ipswich, MA, and has extensive worldwide distribution through a network of exclusive distributors, agents and seven subsidiaries located in Canada, China, France, Germany, Japan, Singapore and the UK. For more information about New England Biolabs visit neb.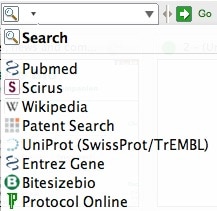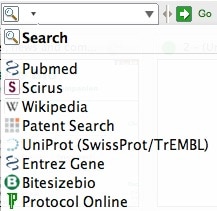 To (hopefully) make the life of molecular biologists everywhere a little easier, I have put together a Molecular Biologist's tool-bar for Firefox/IE, which you can download here.
It's main feature is the multi-search box from which you can search Google, Pubmed, Scirus, Wikipedia, SwissProt and others directly, saving you from navigating to the individual sites every time you want to make a search.
It also contains drop-down menus with links to commonly used sequence manipulation and analysis tools, bio-databases, literature tools and some other stuff I hope you will find useful.
This is the only the first version of the toolbar and I intend to add more features over time so I'd love to hear your input into which tools and features you would like to see added (or removed!). Please leave your suggestions either in a comment, by e-mail or by hitting the "suggest" button on the toolbar itself.
The Molecular Biologist's toolbar can be downloaded here.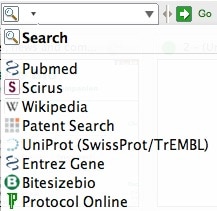 Scroll To Top