A Halloween Treat: 10 Molecular Bio Tips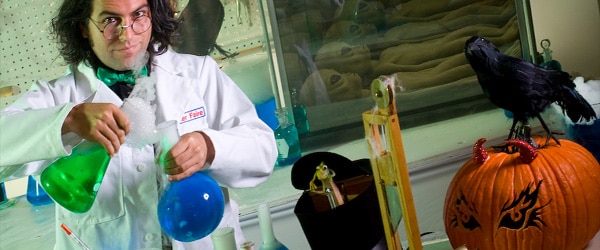 This Halloween we want to treat you with some molecular biology goodies in the shape of 10 juicy tricks. We've been bringing you advice since August 2007, but some of our readers may just be discovering our hallowed grounds. Join us in bringing some of these old tricks back to life.
1. Save money by recycling electroporation cuvettes
Re-cycling Electroporation Cuvettes
2. Ditch the LB and get rich cultures for super-productive plasmid preps by using PDM, a stoichiometrically optimized medium for plasmid production.
Pimp Your Plasmid Growth Medium
3. Using LB-grown cultures for IPTG induced expression? Lactose in the LB will give a low level of background expression. Switch it off by adding 0.3% glucose.
Shut of Background lac Promoter Expression in LB
4. Ever noticed that when you do the PE wash during gel extractions, a droplet of PE tends to stubbornly rest inside the column at the side that was to the outside of the centrifuge rotor? Get rid of that droplet, and stop it carrying through during elution, by turning the tube 180 degrees so the droplet is on the inside, and giving it another quick centrifugation.
5 More Tips for DNA Gel Extraction
5. Eppendorf tubes sent in standard envelopes can get stuck in mail sorting machines. So when you are sending plasmids in the mail either use a padded envelope, which doesn't go through the sorting machine, or soak the plasmid in a small piece of filter paper, wrap it in cling film and send it flat packed!
Sending Plasmids: How to Avoid Jail Time and Shredded Envelopes
6. Did you get too many bands in your PCR reaction? Here is a fast and easy method to rescue your PCR. Run the PCR reaction on a gel to separate the products and then stab the band of interest with a 20G syringe needle a few times. Swirl into a new PCR reaction and 20 cycles later, you've got your single band ready for cloning or sequencing.  This is fast, easy, and much less expensive than PCR optimization.
PCR Rescue: Making One Band From Many
7. Another good way to eliminate non-specific PCR amplification is the Touch-Down PCR (TD-PCR) technique. TD-PCR allows for amplification of only the amplicons with the highest primer-template complementarity.
Touchdown PCR: a Primer and Some Tips
8.  Want to become the lab MacGyver?  Here is a top ten list of lab MacGyverisms; ways to use everyday items to make gadgets and low-tech solutions for the lab. Examples include using McDonald's straws (they are autoclavable!) for disposable pipettes and cheap liquid handsoap for blot washes. Setting up a lab at home seems very feasible after reading this article!
Low Tech Lab Gadgets: My All Time Favs
9. There are numerous competent E.coli strains to choose from. For clarity on the benefits of all the different mutations and then how to choose the right strain, this article outlines the options simply and clearly.
Choosing a Competent E.coli Strain
10. TBE sucks. Run gels for 10 minutes at 200 volts using sodium boric acid buffer instead. 10 mM Sodium Boric acid stays cool even at high voltage, allowing gel gels to run 7 times faster!
Faster, Cooler, DNA Gels
Have any more tricks of your own? Share them with us in the comments, or using the contact form.
Happy Halloween!