Don't Clone Alone: A Comparison Between SnapGene and Genome Compiler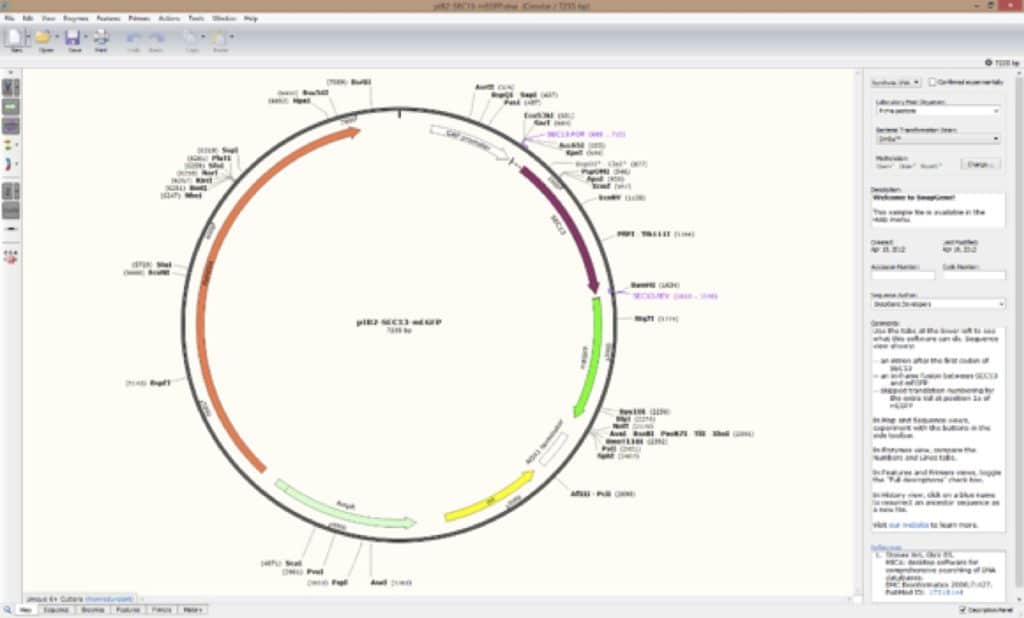 There are several software platforms that exist today to help molecular biologists and genetic engineers think about and execute their research for grander hypotheses, more immediate results and the production of masses of data. After recently reading the article "Vector NTI Vs Genome Compiler," I've continued this comparison with another conventional, widely adopted DNA design platform SnapGene, up against the new kid on the block—Genome Compiler.
SnapGene vs Genome Compiler
The User Interface
Starting with the general user experience, SnapGene users are met with a bland, dated, and unintuitive interface where you can only see one particular view of your sequence at a time. For example, you can't see the sequence and circular views side by side, which causes you to easily lose orientation. On the plus side, the capacity of the SnapGene software supports up to giga-base sequences, with a scrolling zoom bar allowing you to view your DNA based on sequences, regions, or features.
By contrast, the Genome Compiler interface is not only simple and customizable but brings a modern look and feel to genetic software, making it a non-confrontational experience for even first timers. The screen can be customized to show either single or multiple projects at the one time for sequence and map comparison. A drag-and-drop function makes it convenient to move DNA sequences within and between open projects.
Ease of use
To learn how to use SnapGene, you have to study handy but fairly lengthy tutorial videos.
For Genome Compiler, customer support is paramount with a live chat feature for online round-the-clock support. It was great. When I inquired about how to import my alignment files, I received a live instant reply. There are also regular live webinars and short (less than 2 minutes) video tutorials on a range of topics. Genome Compiler seems to be the more dynamic of the two with its online functionalities and live chat interactions with users.
Supported databases
Both software packages offer databases populated with thousands of fully annotated plasmids. At this stage, SnapGene supports a greater variety of file formats for importation and their database is more extensive. However, these databases are only accessible on their website. So, first the files have to be imported from the website in order to view them inside the software, making it less convenient to search for and open projects.
By contrast, Genome Compiler has a built-in user-friendly 'Materials box' in which you can search its databases and open projects from within the software platform. Genome Compiler also supports the import of SnapGene files. If you can't find the sequence in the Genome Compiler database, you can import files from the databases on the SnapGene website. Genome Compiler also integrates plasmid libraries organized according to vendor. They already have the AddGene and Sigma Aldrich plasmid repositories, with options from within the platform to directly order these plasmids from each vendor. Genome Compiler is constantly expanding the libraries it supports, having recently added the Synberc plasmid library and the iGEM library of standardized DNA parts.
Step by Step Cloning Simulations
Cloning 'wizards' are included in both software packages to aid step-by-step simulations of a variety of cloning procedures; saving users time and reducing errors in their design.
Genome Compiler's cloning wizards have some additional capabilities. For example, they allow you to design primers, add compatible restriction sites where none can be detected in the sequence, or to codon-optimize your synthesized sequences. Additionally, the user can save the cloning wizard steps in case they want to re-open and edit them again at a later date. Currently SnapGene covers a greater variety of cloning procedures (Gateway, In-fusion, Gibson Assembly and TA or GC). While Genome Compiler already supports Gibson Assembly and Restriction Ligation, it mentions online that Golden Gate and Gateway cloning will be added soon.
One of the advantages of using these computerized systems is to eradicate human error. SnapGene has a really good history-tracking tool, where you can see the whole cloning chain of events that led to your finalized constructed plasmid. Although Genome Compiler doesn't have this, it does provide tracking of the small incremental changes that users make to DNA and amino acid sequences. These are permanently recorded for future reference and you can add personal comments on the DNA sequence, which is useful for shared projects.
File sharing
Probably the most exciting feature of Genome Compiler is its usability online. Unlike SnapGene, collaborative work is encouraged with Genome Compiler's easy-to-use cloud-sharing facilities with options for both read-only and editing. Because there are no restrictions on licenses, each user can download the software or use the online version for free; creating their own accounts and working online or offline from their own computers, without the need for sharing one account on one computer.
And an important consideration: cost
Genome Compiler is absolutely free for academia and is ready for use immediately and from anywhere. Genome Compiler can commit to such a structure because of their e-commerce strategy that leverages their corporate partnerships; making money through referrals for DNA purchases at no additional costs to the end user.
So, here I've have dissected two software tools that allows biologists to imagine, plan, create and simulate DNA manipulations. The technology is only a few years old and both companies are constantly working to refine their systems with regular updates using crowd-sourced feedback. SnapGene has a good range of scientific add-ons to help molecular biologists and genetic engineers visualize their research. Although relatively new on the scene, Genome Compiler is revolutionizing the synthetic biology industry with its big-picture outlook—as a one-stop-shop from DNA design all the way through to seamless sequence ordering from synthesis partners directly from the platform.
Photo courtesy of JD Hancock.