Even Better Free Molecular Biology Software: Serial Cloner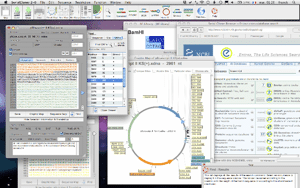 In 2007, I wrote a couple of articles on the best free software for molecular biologists on Mac and PC. One of the highlights of those lists was a fantastic cross-platform for in silico DNA cloning, sequence analysis and visualization, called Serial Cloner (move over VectorNTI!).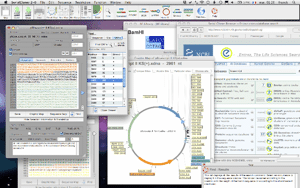 The creator of Serial Cloner, Franck Perez, contacted me recently to tell me that he had just released an excellent new version of the  software and asked if I would relay this to our readers. Well, as a big fan of Serial Cloner I am only too happy to oblige.
If you do molecular biology and you haven't tried our Serial Cloner, I'd urge you to give it a go. It is very intuitive and is packed with features; from basics like constructing importing sequences, constructing plasmid maps and restriction mapping, through more complex things like sequence alignment, Gateway cloning and siRNA design.
Among the many improvements Franck has made in this new version are:
Automatic scanning for features in imported sequences
Importing VectorNTI, Genbank, EMBL, ApE sequences with features
Generation of MultiFasta formated sequence for Clustal submission
Recovery of unsaved sequence in case of unexpected quit
Impoved Import of NCBI/EMBL sequences (Web Access)
Alignments via NCBI BLAST2seq
Check it out at http://serialbasics.free.fr/Serial_Cloner.html