Established in the mid 1970's, New England Biolabs, Inc. (NEB) is the industry leader in the discovery and production of enzymes for molecular biology applications and now offers the largest selection of recombinant and native enzymes for genomic research. NEB continues to expand its product offerings into areas related to PCR, gene expression, sample preparation for next generation sequencing, synthetic biology, glycobiology, epigenetics and RNA analysis. Additionally, NEB is focused on strengthening alliances that enable new technologies to reach key market sectors, including molecular diagnostics development. New England Biolabs is a privately held company, headquartered in Ipswich, MA, and has extensive worldwide distribution through a network of exclusive distributors, agents and seven subsidiaries located in Canada, China, France, Germany, Japan, Singapore and the UK. For more information about New England Biolabs visit neb.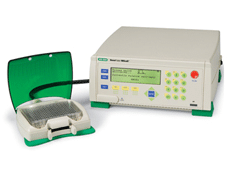 I just came across a neat device now being offered by BioRad that may interest those of you who do a lot of electroporation of difficult-to-transfect mammalian cells, where tedious optimization of the electroporation protocol itself is required.
The GenePulser MXcell is BioRad's attempt to help overcome the tedium. It takes BioRad's gene pulser technology into a multi-well plate format (12, 48 and 96-well versions are available). The parameters important for transformation (waveform, capacitance, pulse time etc) can be independently varied for each well, allowing rapid optimization of the transformation protocol for a particular cell line.
I think this is a great idea. I joke about using the MXcell to overcome the tedium of protocol optimization, but it's more than that. In my work I do a lot of process optimization for which no high-throughput methods are available and, just like for transformation, the number of variable parameters can make the number of possible combinations huge.
To overcome this I use statistical design, which helps to predict the likely best results by performing a relatively small number of experiments and building a mathematical model of the system. This is good, but simply being able to blast through all of the variations using a high throughput format is even better, so the MXcell should prove very useful to those who have to optimize transformation conditions in their daily work.
Now how about a device that could optimize my gene expression constructs…?
Scroll To Top