BioPop: 10 Songs That Should Be On Every Biologist's iPod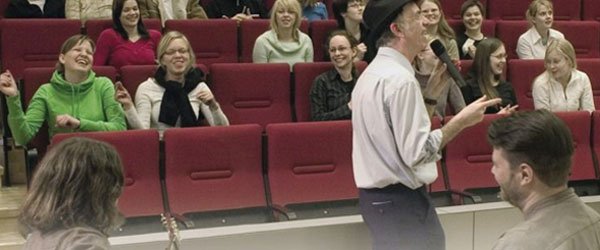 The late Francis Crick once said that "Trying to determine the structure of a protein by UV spectroscopy was like trying to determine the structure of a piano by listening to the sound it made while being dropped down a flight of stairs."
But, if you thought that protein structure determination was the closest that biologists got to making music, you'd be wrong. It turns out that behind the veneer of the laboratory, biopop – a thriving underground biology music scene – is just waiting to burst onto your iPod (or other music player).
For your listening pleasure, I have scoured the internet to bring you 10 of the very best songs that biopop has to offer. From Unca John's bluesy "Growth Hormone Hero" to Amy Hartnell's karaoke classic "Form a phosphate-ester link (to carbon three)" to BioRad's slick but shamelessly corporate "Scientists for Better PCR", every taste is catered for.
Whether you love, hate or even make biopop, be sure to make your views or your favorite songs known here.
Here's the biopop top 10. Enjoy:
1. The Professor And The Punk
Artist:Gregorio del Laboratorio and Do Peterson
Album:Greg's Science Song Music
2. Growth Hormone Hero
Artist:Unca John's Blues Band
Album: The Beta Blocker Blues
3. Scientists for Better PCR
Artist:BioRad/Various Artists
4. Biochemistry Pie
Artist:Kevin Ahern
Album:Kevin Ahern's Wildly Popular Metabolic Melodies
5. Form a Phosphate-Ester Link (to Carbon Three)
Artist:Amy Hartnell+You on lead vocals
Album:Musical Chemistry
6. Necessary But Not Sufficient
Artist:Science Groove
7. That's What Slugs Are For
Artist:Jessica Raaum
Album:Greg's Science Song Music
8. The Michealis Anthem
Artist:Harold Baum
Album:The Biochemist's Song Book
9. Why You Look Like Your Father
Artist:Dr Chordate
Album:Ain't Nothin' Like a Groundhog
10. Horse Haemoglobin
Artist:UCLA Scientists
Album:Gene2Music