Suzanne has a PhD in Microbiology/Immunology from Virginia Commonwealth University School of Medicine. Suzanne's interests include research and development, product development, corporate development/alliance management, expertise in life sciences, molecular biology, cannabinoids, oncology, therapeutics, microbiome science, medical foods, nutrition, and skincare.
Articles by Suzanne Kennedy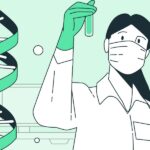 Most experiments start with a piece of DNA—either plasmid DNA or genomic DNA. And your downstream uses for it dictate how much you need, what contaminants you can tolerate, and your extraction and purification methods. In this article, we explain the key differences between plasmid and genomic DNA extraction methods.