10 Simple Rules For Doing Your Best Research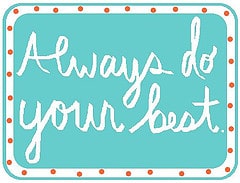 Last month, Thomas C. Erren and colleagues published an editorial in PLoS Computational Biology entitled 10 simple rules for doing your best research, according to Hamming. The article provides some great philosophical guidance on setting out to do great research, drawing on advice given by the mathematician Richard Hamming during a Bell Communications Research Colloquium Seminar in 1986.
Hamming is a researcher worth listening to, having spent over forty years pioneering computer science and telecommunication, rubbing shoulders with the likes of Fermi, Teller and Openheimer and his advice includes:
Ensuring your mind is ready for the challenge by intentionally setting out to do top class research, being ready for the opportunities t and acting with courage.
Simultaneously believing and doubting your hypotheses to ensure that you are open to any outcome
..and of course working hard and effectively.
This is one of a series of "10 simple rules" articles published in PLoS by Philip Bourne, which provide good practical advice on a range of topics. My favorites are Ten simple rules for a successful collaboration, Ten simple rules for selecting a postdoctoral position and Ten simple rules for getting grants
Photo: Poundstone