The Best Polymerases of 2008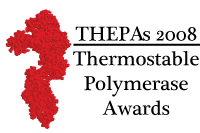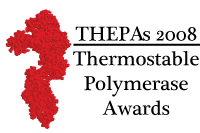 Yawn….
The awards season is upon us once again. Overpaid, under-worked and over-ego'd celebrities get together to slap each other's backs and tell each other how great they are.
But little do they know where the real party in town is. The 2008 Thermostable Polymerase Awards (the THEPA's) are underway and you have a front row seat.
Here are the winners:
Highest fidelity
The highest fidelity class is the most hotly contested THEPA category and competition is normally tough. But this year a new kid on the block, Finnzymes' Phusion Polymerase, with it's tiny error rate of 2.28×10(-5), blew the competition away and deservedly scooped the award.
Highest processivity
Phusion also came out tops in the highest processivity category. With 10x greater processivity than Pfu and 2x greater than Taq it certainly merits it. In an emotional acceptance speech for it's second award, Phusion dedicated the award to it's fused DNA binding domain.
Fastest polymerase
Phusion was also nominated in the fastest extension rate category, and at a blistering 15 seconds/kilobase few could argue. However KAPA2G from Kappa Biosystems, with it's astounding rate of 1 second per kilobase was the clear winner. Critics argued that KAPA2G's lack of proof reading gave it an unfair advantage over the meticulous Phusion and arguments raged into the night.
Fastest hotstart
Sometimes you just want your hotstart to be fast, and nominees in this category try to deliver. The winner was Truestart from Fermentas, a Taq polymerase that requires only 1 min at 94C to activate.
Best for GC rich/problematic templates
"Heroic" was how the academy described Invitrogen's Accuprime in their recommendation for it's award in the "best for GC rich/problematic templates" category. When you have a problematic or GC rich template, and no other polymerase can deliver, Accuprime can.
Best for low copy templates
Sipping champagne and relaxing as the nominations for the "best for low copy templates" category were read out, Bioline's Sahara looked positively shocked when it was announced as the winner. Apparently, it thought it's recent protocol change (it's hot start time was increased from 7 to 10 minutes) would count against it, but that was not the case. The applause in the room as it accepted the award will be echoed by all who work with low copy templates.
Cheapest polymerase
For routine applications, you want your polymerase cheap (but not dirty). According to our friends at Biocompare, the cheapest thermostable DNA polymerase on the market is GenScript Corporation's Taq polymerase coming in at a measly 6 US cents per unit, making it a clear winner in this category.
Best for mutagenesis
Stratagene's Mutazyme II won this class due to it's unique ability to create balanced mutational bias. It does this using a combination of Mutazyme I, a reduced fidelity polymerase and a novel Taq polymerase mutant. Mutazyme's II agent has negotiated a lucrative deal that means it is only available as part of the Genemorph II kit.
Best for sequencing
Sequitherm from Epicentre Biotechnologies takes the award here. Part of the Sequitherm Cycle Sequencing kit, it displays enhanced abilities to sequence tough GC or secondary structure templates due to it's high reaction temperature optimum.
Lifetime Achievement
And finally, Taq Polymerase, the grand old daddy of thermostable polymerases was given a lifetime achievement award for it's services to PCR.
Plucked from the obscurity of Yellowstone Park, where it had evolved over millions of years, Taq teamed up with Kary Mullis to become to be an integral player in perhaps one of the greatest inventions of the 20th century.
Although Taq is now surrounded by younger, faster, proof-reading variants, it can still hold it's own and remains central to many PCR applications. Despite the ravages of time, it does not look like retiring any time soon and still looks as good as it did back in Yellowstone.