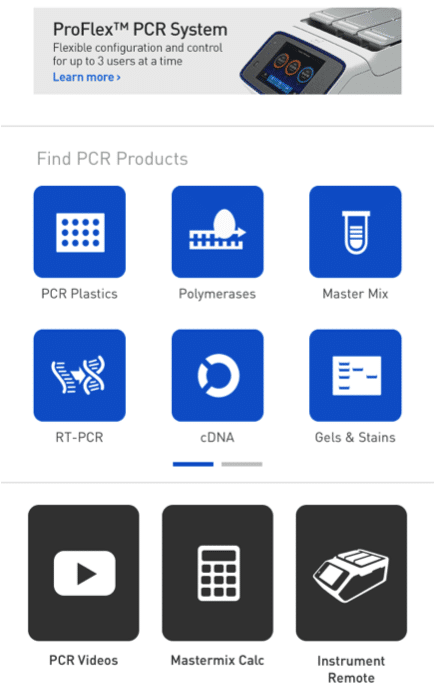 For the busy scientist, a Smartphone is more than just a Facebook and Instagram viewer. In the past few years, apps have been developed that can also allow you to use your phone or tablet to design PCR and qPCR experiments on the go. This technology evolves rapidly though. Today, I'll describe my experiences with two PCR apps that have appeared just within the past year. Both are free (my favorite!) and compatible with iPhone, iPad and iPad Touch, while the second one works with Android systems as well. So without further ado, let me tell you about them.
PCR Essentials
From Life Technologies this PCR app requires iOS 7.0 or later. This app may appear simple, but it packs a punch. PCR Essentials will help you find PCR products for purchase (plasticware, polymerases, cDNA kits, etc.) and calculate mastermix reaction components. But the most amazing thing to me is that with this app you can connect remotely with your ProFlex PCR instrument, if you have one. Can you imagine stepping out of the lab for lunch, but still being able to check on the progress of your PCR reaction? It looks like this app will let you do this. Full disclosure: I don't have a ProFlex PCR System, so I couldn't test this particular feature myself. If you have one, please let me know about it in the comment section. I'd love to hear about your experience.
Figure 1: PCR Essential's Homepage. Don't let the simplicity fool you this is a comprehensive app.
PCR Essentials also has PCR-related videos that you can watch while you wait for your reaction to complete – ranging from "Competent Cell Transformation" to cheesy PCR-themed musical cartoons. The strength of this app is that you can access a lot of different PCR resources all within this single app, instead of using separate PCR apps for each feature. While the homepage of PCR Essentials not too fancy-looking, see Figure 1, it is very useful.
Real-Time PCR
This is another free app in the Life Technologies PCR series. It requires an operating system of iOS 6.0 or later. Also, as of June 2015, there is now an Android version available. Real-Time PCR comes with a complete PCR handbook that covers a wide variety of topics including Experimental Design, Plate Preparation, Data Analysis and Troubleshooting. These topics are all well-organized too, making referencing easy and making this app a great on-the-go resource for all the students in your lab.
Figure 2: Real-Time PCR's Homepage features a Handbook section and Publications section for easy on-the-go referencing.
Especially notable is Real-Time PCR 's handy troubleshooting guide. This guide covers common problems such as abnormal amplification, poor PCR efficiency and genotyping issues. Good for both the summer undergrad and the experienced postdoc. This app also has several technical videos that cover the basics of PCR, digital PCR, gene expression and instrumentation. To round out its functionality, there is also the obligatory reaction mix calculator, a bookmark option, and a form to contact Life Technologies technical support. As with PCR Essentials (and as you can see in this screenshot of the homepage) this app covers a lot of territory that used to require multiple apps.
Other PCR Apps
In addition to these two major (read: comprehensive) PCR apps, there are a few others I would be remiss to not mention including Life Technologies Digital PCR in 3D. This is not a brand new app (2013), but has instructional videos on digital PCR, Chip Technology, Quantification and Rare Target Detection, an interactive demo, as well as a link to the Life Technologies user community forum. GeneLink (iOS 3.2 or later) is an app that dates back to 2012, but may be a good option for those with older devices. It has reaction mix calculators, a reference section with information on basic nucleic acid biology, a list of available products and a company contact page.
This is not meant to be an exhaustive list of smartphone PCR apps, but rather some of the newer and most helpful ones. For past articles on oldie but goodie PCR-related apps see Ellen Moran's article "Apps That Bring PCR to Your Mobile Device" and Nick Oswald's article "10 More iPhone/ipad Apps for Bioscientists".
If these new PCR apps are any prediction for the future, all PCR instruments will be controllable by smartphone. Remote lab management seems to be the way of the future with new applications being developed all the time. But meanwhile, if your supervisor comes into the lab and happens to catch you staring at the "Words With Friends" game on your smartphone, you could always try to brush it off as a new primer designing tool. Good luck!