The Price of PBS These Days!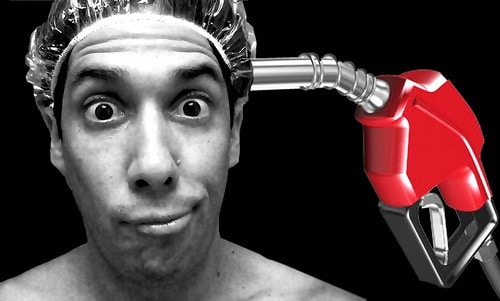 It seems that everyone is throwing their hands up about gas/petrol prices these days. In the US, gas prices have now reached $4/gallon, while in the UK, they are hovering around a whopping $10/gallon.
But what's all the fuss about? A lot of effort goes into producing gas – you have to find, extract, refine, transport, and of course, tax it (especially in the UK) none of which is cheap. So maybe gas consumers are getting value for money.
Well, compared to lab workers they certainly seem to be. For some of the liquids available for molecular/cell biology, some of which are much easier to produce than petrol, $4 or even $10/gallon is peanuts. Here are some examples to help keep things in perspective next time you are at the pump.
Distilled water: Run the tap, pass the water through a distillation unit, then maybe through a sub-micron filter to clean it up at the end, bottle, then ship. A bargain at $75/gallon.
PBS: A salty version of distilled water. Must be expensive salt because it raises the price to $100/gallon.
10x TBE: Slightly more elaborate salty distilled water, coming in at $150/gallon
Molecular biology grade water: In the lab, we used to call this holy water because many people swear by it. It's just very clean water, but how much cleaning can you do for $300/gallon?
DEPC treated water: The price of being RNAse free? $350/gallon, apparently.
Dulbecco's Modified Eagle Medium: Cell food. $375/gallon
LB Medium: Water, salt, Marmite and chopped up soya beans. $400/gallon
Ethidium bromide: The stuff of the devil according to some (but not all), the price is devilish though… $25,000/gallon
EcoRI: To be fair, this stuff takes a lot of effort to make but, just for fun, a standard prep comes in at $375,000/gallon
All food for thought so maybe we should lay off those poor impoverished oil companies. Or maybe not.
What's the most over-priced thing you've bought for the lab?
Photo: lorenzodom