Gmail is no longer just an email provider, but is now packed with loads of useful tools that can make your like easier. In this article, I will share some of the Gmail features I have made use of for my work and research.
Search your mail and the WWW
Google, being one of the highly rated search engines, has decided to embed this amazingly top notch search function into Gmail. This can be used not only for searching the web, but also items in your Inbox.
This function has changed the way I use my Gmail account drastically . Gone are the days trying to search for an email from a lecturer dated 3 years ago by scrolling through a never ending list of emails,.
Now through the power of Google, it's simply a matter of searching with keywords such as the lecturer's name, the subject or anything that you can remember about that particular email.
Also, the

search function extends into searching the Chat logs that is collated from GTalk, which I will cover in the next section.
Update, track and log your social network
Google's version of IM (Instant Messaging) is known as GTalk, and a fine thing it is too. Now the simplified and efficient version of GTalk, known as Google Chat, is embedded on Gmail.
Getting started with Google chat couldn't be simpler because all of your email contacts, including everyone that you emailed in the past week, are added to your Google Chat contact list.
And in the past few months, Google Chat got better when they introduced video chat as well.
There are a lot of things that I ask my research friends on Google Chat and these valuable conversations are safely logged for future reference. As said earlier, these logged conversations can be searched using the search function, which is very useful indeed.

RSS feeds with Gmail Clips
GMail clips is another useful tool. It displays a news ticker of your chosen RSS feeds, be it a journal feed, a Pubmed search feed or a news feed at the top of your Gmail page.
This is quite handy, although, only one headline is seen at a time, which limits it's use somewhat. Alternatively having my igoogle open on another tab makes it more convenient to view the web clips.

Labels
Just like those fluorescent coloured sticky notes we stick on our lecture notes, Gmail has offers coloured labels for emails.
An email can have more than one label, and these can be coloured with its own distinct colour for easy recognition. Emails can be labelled instantly once they arrive into your inbox as well.
Now emails about seminars and symposiums can be labelled together, while email conversations with your supervisor can have its own label and so on.
You may wonder if this just a new word for folder which all other email providers have, but no… with labelling, an email can have more than one label, but an email can only be stored in one folder. So labelling is much more versatile.
Forwarding mails and other mail accounts
This is one of the best functions of Gmail. Like any other email provider, one can forward mails from other email accounts into Gmail, but it does not stop there…
With Gmail, you can even send emails using other accounts!
For example, I can now send emails from Gmail with my work email as the sent address. This is what, it my eyes, sets Gmail slightly higher than other email providers.
So, I now have my work email, yahoo mail, hotmail and personal email all sent to my Gmail and I when I send out emails, I get to choose which sender email account I want to use.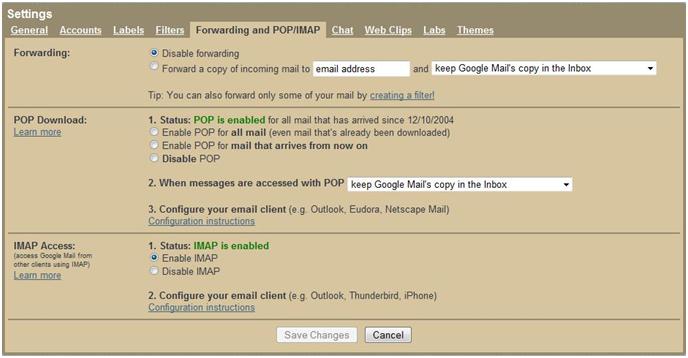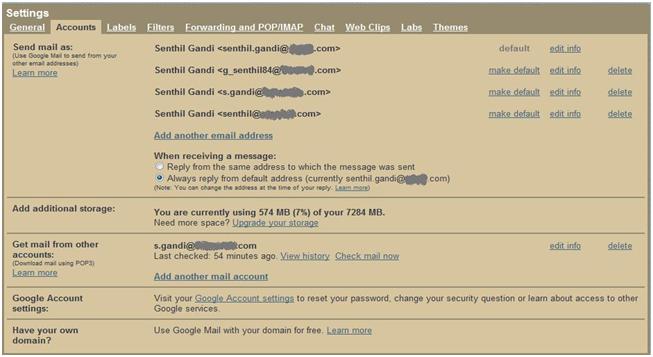 Google Labs
Google Labs will be the reason why Gmail will always be the most successful email provider of all time.
Yes, Google Labs allows general public (non-google programmers) to write plugins for Gmail, hence as a need arises a new plugin will arise.
The array of plugins available Gmail is ever growing; some of the plugins that I use are Old Snakey, Right side Labels, Forgotten Attachment Detector, Custom Label Colours and a few more.
Forgotten Attachment Detector is far most the best plugin I am grateful for. There have been tons of times when my supervisors and lecturers have got back to me saying I have forgotten to attach the attachment that I meant to send them, now with the help of the Forgotten Attachment Detector, before an email is sent out, my email is scanned for words such as attach or attachment and if there isn't an attachment attached, then I get a pop up window asking if I have forgotten to attach something.
And for our American readers, there is even a plugin for you to send SMS straight from your Gmail and also receive them on your Gmail.
Subscribe to High Priority Feeds and Alerts
So far the best Web-based aggregator I have used is Google Reader, it is proficient in reading Atom and RSS feeds online or offline. I have to admit I have come to love Google Reader but as I was researching the net to write this article I came across a way to bring in your High Priority Feeds and Alerts to Gmail.
Instead of trying to explain something that I have not extensively used, let me just point you to MicroPersuasion, the website of Steve Rubel.
What I have said so far is just scratching the surface of the ever useful Gmail, perhaps I might write a part 2 of this article, depending on your interest on this topic.
In the meantime, you can visit the Official Gmail Blog. for further tips.
Do you use Gmail? What do you think of it?