Good GM Foods – Bt Corn as an Example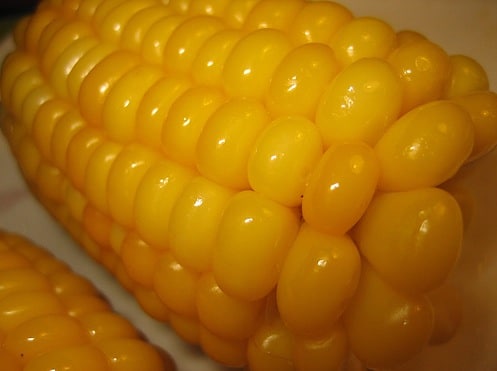 Last December, I posted a running question – What's with Europe's Opposition to GMOs? – and moved on to other topics. This week, I'd like to contrast "good" versus "bad" genetically modified crops. Beginning with the former, a prominent example of a "good" GM crop is Bt corn.
In 2003, PLoS Biology ran an article on Genetically Modified Corn that spent a good deal of time on Bt Corn. The highlights:
Bacillus thuringiensis, a soil bacterium, produces several crystal (Cry) protein toxins that destroy the gut of invading pests, such as larval caterpillars. So far, over 50 cry genes have been identified and found to affect insect orders differently.

Considered safe to humans, mammals, and most insects, Bt has been a popular pesticidal spray since the 1960s because it had little chance of unintended effects. Engineering the gene into corn, however, caused an unexpected public backlash. "We thought it was going to be the greatest thing since sliced bread," says Guy Cardineau, agricultural biotechnologist at Arizona State University. "Here's a way to withstand insect pressure, eliminate the use of pesticides, and Bt spray was widely used in organic agriculture," he adds. The Bt wrangle illustrates how differently a product and a process can be regarded.

After the expensive development process, today's concern is that broad-scale planting of Bt corn will render the toxin ineffective over time. Pests can gradually build resistance to any pesticide, and so the United States Environmental Protection Agency (EPA) requires that 20% of Bt field areas be planted to non-Bt corn to avoid such pressures. But humans have to follow the rules. A recent report from the Center for Science in the Public Interest shows that almost 20% of farmers in the United States Corn Belt are violating EPA standards by overplanting Bt corn, causing some to question the regulations and enforcement that will be necessary for certain GM crops.
Now this isn't my field, I'm just a mild-mannered commentator on what I know about these things from my extra-curricular online reading. I haven't fact-checked all of that, or the rest of the material from the PLoS Biology paper. That's what we have peer review of such articles, regulatory agencies and muckrakers for.
So to my understanding, what I keep hearing from such respected sources is that such GM crops improve the way that pesticides and herbicides are used, focus on selective chemical agents, and are already compatible with current standards for organic foods. Leaving very little to complain about. Oh there's the potential for gene flow into the environment and other potential but probably minor ecological impacts to consider, but the food safety concerns aren't significant.
As the PLoS Biology article originally pointed out, the *real* concern is overuse, leading to a repeat of antibiotic resistance in crop pests.