10 More iPhone / iPad Apps for Bioscientists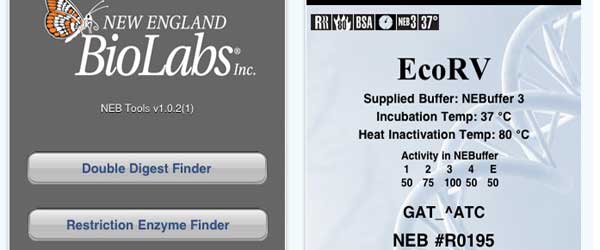 In the time since Bala wrote his article for us about iPhone apps for bioscientists, many individuals and companies have jumped on the bandwagon to deliver some great new apps that you might find useful in the lab. Here's my pick of the 10 best apps available at the moment:
Price $9.99/£5.99
With this app you can search pubmed AND organise your articles from your iPhone.
2. Biogene
Price: Free
Enter a gene symbol or gene name and BioGene will retrieve its info from Entrez Gene and links to references from Pubmed.
Price: $2.99/£1.79
A serious chemistry calculator that is packed with features. The most useful of these for biologists are the EA and molecular mass calculator for amino acids, polypeptides and proteins (just type in the peptide sequence) a terminology search facility that queries the IUPAC Compendium of Chemical Technology.
Price: $0.99/£0.59
Get detailed info on amino acids (and elements from the periodic table) using this app's really nice interface.
Price: Free
This app from BioRad provides qPCR tutorials, and interactive troubleshooting tool and a reagent selector which helps you find the best (BioRad) reagent for your experiment.
Despite it's rather unimaginative title, the Promega app packs in a lot of great features. giving you access to molecular biology calculators, technical tips, protocols and multimedia presentations.
Price: $0.99/£0.59
A nice simple app for calculating the volumes needed to make a master mix for multiple PCR reaction. Just enter the volumes you want to use for the single reaction and the app will scale it up for the total number of reactions you specify.
Price: Free
A nice app from NEB, which brings their most popular web tools, the enzyme finder and double digest buffer selector, to the IPhone.
Price: $0.99/£0.59
A rather eclectic set of dilution calculators for helping you with serial dilutions, making up SDS-PAGE gels and w/w w/v solutions.
Price: Free
This is another simple app that you can use to determine how much volume is needed to dilute an oligo stock solution of higher concentration down to a specific lower concentration. Units for concentrations and volumes can be selected as preferred.
If you have any favorite IPhone/IPad apps that you use in the lab, or you use any of the above, please let us know in the comments!