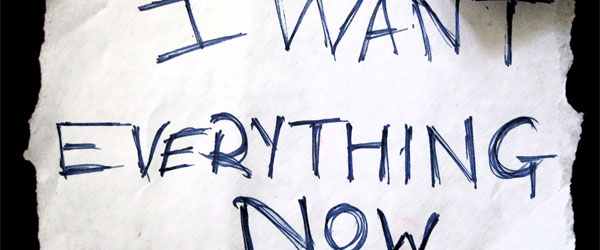 Today's subject is instant gratification – or the thought process, "I have to have it now, or I am not happy!".  For our times, which are filled with streaming video, text messages, and on-demand movies, we are used to having what we want, immediately.
In today's job market, it is more important than ever that job seekers remain vigilant, confident, professional, and most importantly, PATIENT throughout the entire hiring cycle.  Companies are moving slower today – they are very careful in making their hiring decisions and have lost a sense of urgency.  This is all cyclical and will undoubtedly change once the job market turns around.  Knowing this, it is important that job seekers make changes in the way they think about finding a position.  Here are two things you can do:
Remain Positive – we see too many job seekers get discouraged when they do not hear back in a day, a week or even a month. If you have not been told "no", there is always a chance that you will get called in for the job. You must remain confident, as this is reflected in your voice during a phone screen or in-person interview.  The dejected job seeker often comes across as depressed, skeptical, or even whiny.  The optimistic job seeker displays enthusiasm and confidence.  Guess which type of personality companies want to hire?  This extends to networking, too.  If you meet someone at a networking event or party who is dejected, you are much less likely to refer them for positions you might hear about. People refer people they like.  In my son's kindergarten class they call this the kind of person who gives us the "warm fuzzies".  Don't be a "cold prickly".
Follow-up – take the time to follow-up with the hiring manager and/or HR contacts.  A general rule of thumb is that once every week and a half to two weeks is usually appropriate. A polite phone call inquiring about the status is fully appropriate. Be sure to be very positive and courteous and do not reference the length of time it has been since  the interview. Confirm your interest in the role and tell them you look forward to hearing from them – but most of all, remain positive on the call (see #1).
It's certainly not easy to do these things, but being generally happier and more confident will have a positive effect on your search. Every day we are watching people accept new positions, and some of them had to wait a long time with many other decisions hanging in the balance.  Ultimately were thrilled that they received the right offer at the right time.
Good things come to those who wait.