Where Did Bio Begin For You?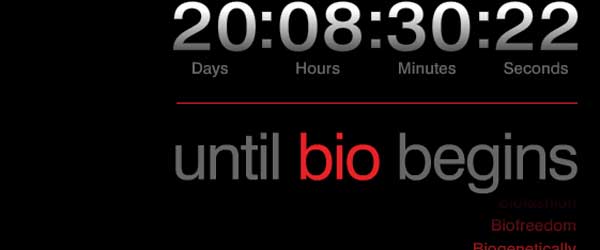 Where did bio begin for you? That intriguing question has been the central focus of an interesting experience I just had.
How this all started
It began on a Saturday morning. After I woke up and fed my cat, and before making my own breakfast, I went straight to my computer to check which emails had come in overnight – this gives you an idea of my priorities as a postdoctoral scientist… (or maybe just a workaholic).
One email was an automated message indicating that @WhereBioBegins was now following me on Twitter.
"Spammer of the day" was my first thought, but, after looking at their feed, it was clear that their tweets weren't automated offers for dubious discounts but were actually engaging and interacting with people they were following.
Curious as to whom this person (or persons) were, I clicked on the link to their website but this only served to generate further curiosity.

The beginnings of Where Bio Begins
Their website homepage contains a huge timer on their site shows a countdown of approximately 20 days (at the time of writing this post) before their exact nature is even revealed. Tantalizingly, they also have a scrolling list of "bio" prefixed terms (e.g. biology, biomechanics, biochemistry, bioluminescence and biodiversity) are that Where Bio Begins will allegedly involve itself with, when it begins.
In the page title, "Where Bio Begins" refers to itself as "the future of life science." Interesting.
So what exactly is Where Bio Begins?
I asked them that question in a public tweet on Twitter, as well as telling them that bio began for me back in high school when learning about the Miller-Urey experiment.
They confirmed the obvious: their lips are sealed for another 20 days, and I can't get any answers until then. My guess for now: Where Bio Begins will likely be the latest in the explosion of social networking for scientists and/or professionals and/or higher education.
If that's the case, I'll add them to the list of networking sites I've already created profiles and accounts for: LabRoots, ResearchGATE, Academia.edu, and LinkedIn. And if that's true, then what about Where Bio Begins would be different? Well, perhaps this: within less than a day of them following me on Twitter, they've asked me to thrust myself into the limelight of vlogging.
What wasn't immediately apparent, you see, is that Where Bio Begins also has a YouTube channel. The link isn't explicitly indicated on their website or within their Twitter bio- you need to look for it within the tweets on their Twitter feed. But once you arrive, surely enough, there are videos from seven scientists describing the origins of their interests in "bio."
Ronny, a grad student in biology, started off in philosophy, but after taking courses in biology, found the arguments there to be much more compelling. Donell, a grad student, was inspired by a biochem professor who taught him to think outside of the box, and apply what was taught in class to his work at the bench.  Carlos was inspired in high school, learning about action potentials, and that encouraged him to go all the way through grad school and now look to begin a postdoc. Brandon, yet another grad student, had the rather unique experience of encountering an eight-legged fetal pig in a glass container while working as a summer intern, and wanted to know what in its development had caused that.
And, perhaps I myself- if I can find a webcam and some free time within the next week- will have a video of my own explaining how I was fascinated by learning about the Miller-Urey process, and actually thought it was a little cool to "play God" in that experiment… remember I was a high school student at the time!
So is Where Bio Begins another networking site? Is it networking with a new spin? Or is it something completely different? I'll be waiting 20 days to find out, and I know that others will too. Surely it will be of interest to anyone who likes "bio," particularly the readers of such as blog as Bitesize Bio.
While we are waiting, why don't you tell us where Bio began in your life?