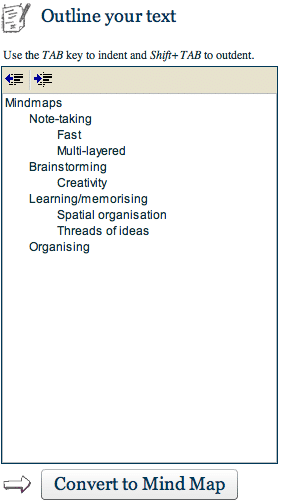 I've talked about the benefits of mind-mapping before. It's a fantastic technique for note-taking, brainstorming and organising your thoughts.
I am a big fan of using mind-mapping software, as opposed to paper, to construct mind maps because, for me, the paper versions quickly get unwieldy and messy.
FreeMind has been my software of choice for a while now, and it does the job very well. But recently I came across an online application called Text 2 Mindmap, which I have now firmly bookmarked as my 2nd choice mind-mapping tool.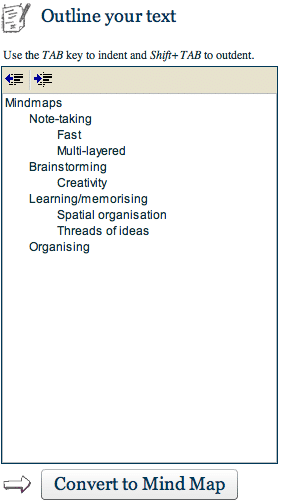 While not as pretty or as function-packed as FreeMind, Text 2 Mindmap offers a very quick and efficient way to create a reasonable-looking, fully editable mind map from a simple text list.
Perfect for when you just want to map your thoughts quickly.
Creating a mind map in Text 2 Mindmap simply involves entering your nodes into a text box, using tabs to signify the levels of organisation, then hitting "convert to mindmap".
Text 2 Mind then spits out your mind map instantly.
You can see my text input on the right, and the resulting mind map below.
The editing capabilites of Text 2 Mind are fairly limited, but effective.
You can change the colour of the nodes on a level-by-level basis from the menu, or individually by clicking on the node. And you can alter the global font size and line width.
As you would hope, you can pull the nodes are to get them just the way you want. Just be sure to select the "freeze map" option if you want to do this though, otherwise you get a strange effect where the whole map moves when you move a node.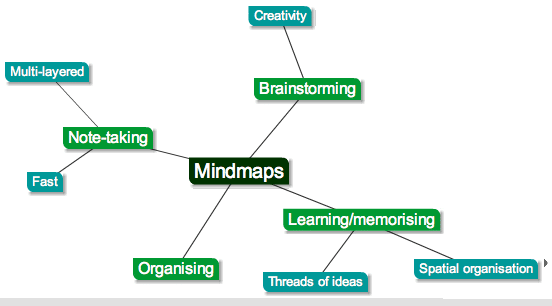 Finally, you can save the map as a jpg for future reference. Obviously you can't go back and edit this later, which is a disadvantage, but for quick note-taking purposes, it's fine.
I think this is a really nice tool. Have a go yourself at Text2Mindmap.com and let us know what you think.