What is Your Favorite Gene?
Today I'm going to tell you about another new genetics resource that's only been available for a couple of months.
This gem is "YFG (Your Favorite Gene) powered by Ingenuity" and it's freely available thanks to a partnership between Sigma-Aldrich and Ingenuity Systems.
You read that right, these two for-profit companies are giving researchers something useful for free! Yes, in this economy! Of course, there's a catch, which I'll get to,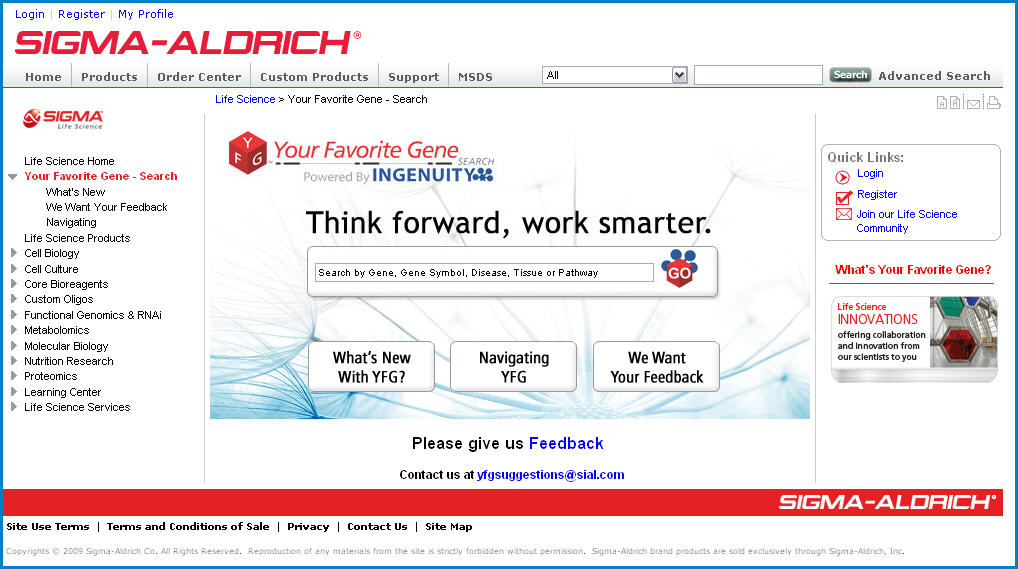 So what is YFG?
It is a "Web-based biological search portal for exploring dynamic gene-based content."
YFG combines a search engine from Sigma-Aldrich with Ingenuity's Knowledge Base, which is a repository of chemical and biological networks .
Researchers can search by gene, pathway, disease, tissue, function, accession number, and more to access biological info and published research findings related to their query.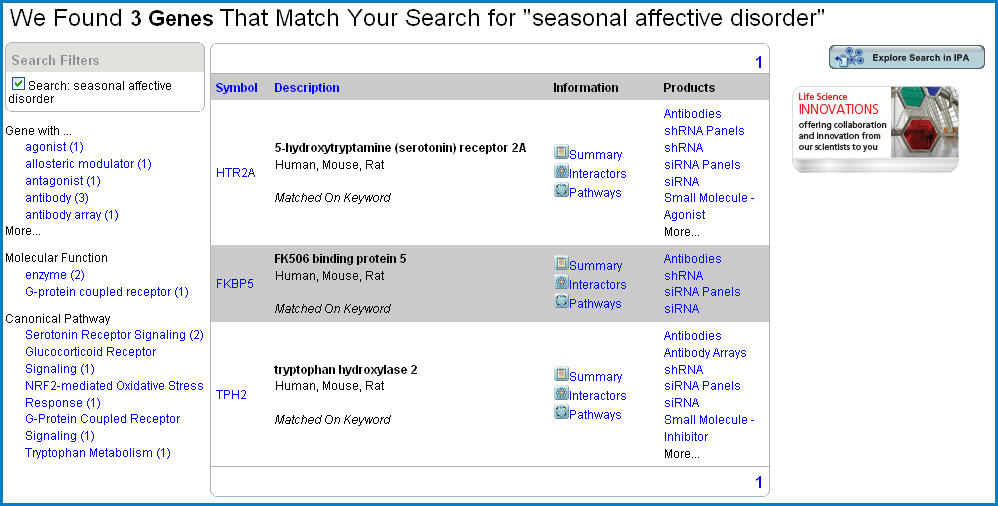 For example, let's search using "seasonal affective disorder" or "SAD", which I've used in previous articles (can you tell I'm ready for spring?). The results page lets us know there are 3 genes that match SAD and offers a lot of info about those genes.
Clicking on any of the links next to a particular gene (gene name, Summary, Interactors, Pathways) takes you to another page specific for that gene – we're going to look at HTR2A. Here you'll find tabs that offer additional info.
The Gene Details tab provides a summary of info about your gene of interest, including molecular functions, literature references, cellular components, etc. Much of this info is linked to yet more info. It's a gene info bonanza!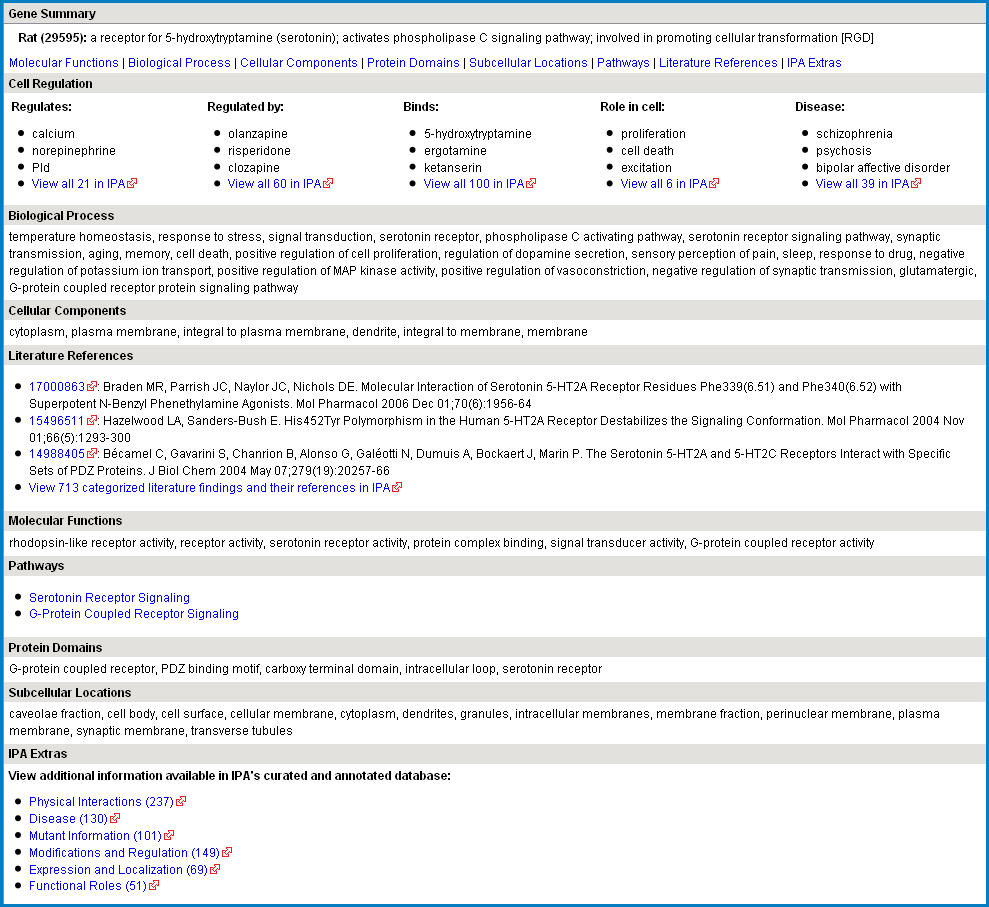 The Interaction Network tab provides an interactive image of molecules or "neighbors" that associate with your gene. Clicking on any of these "neighbors" supplies additional info.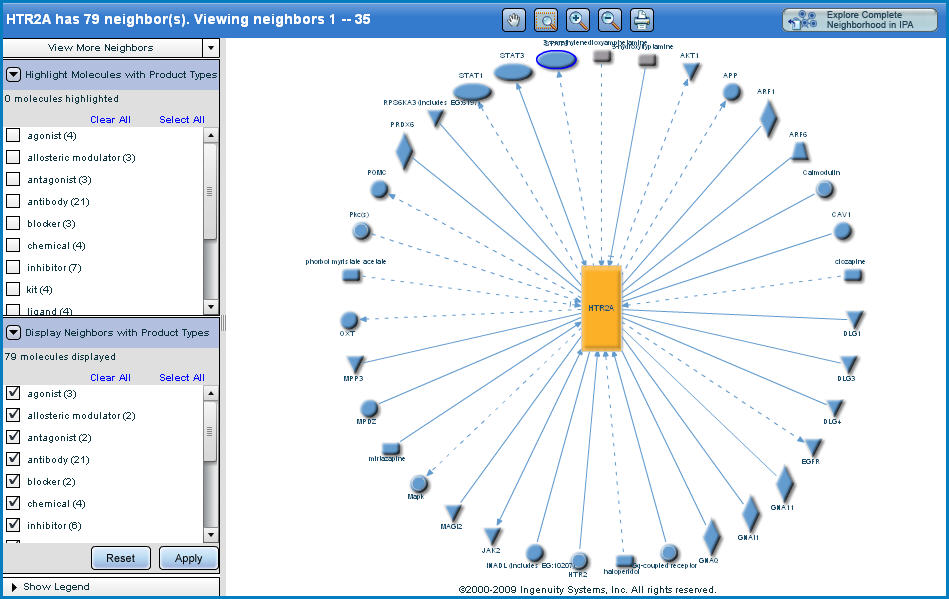 The Canonical Pathway tab provides another interactive image, this time of all of your gene's pathways and associated molecules. Again, clicking on any of the molecules supplies additional info.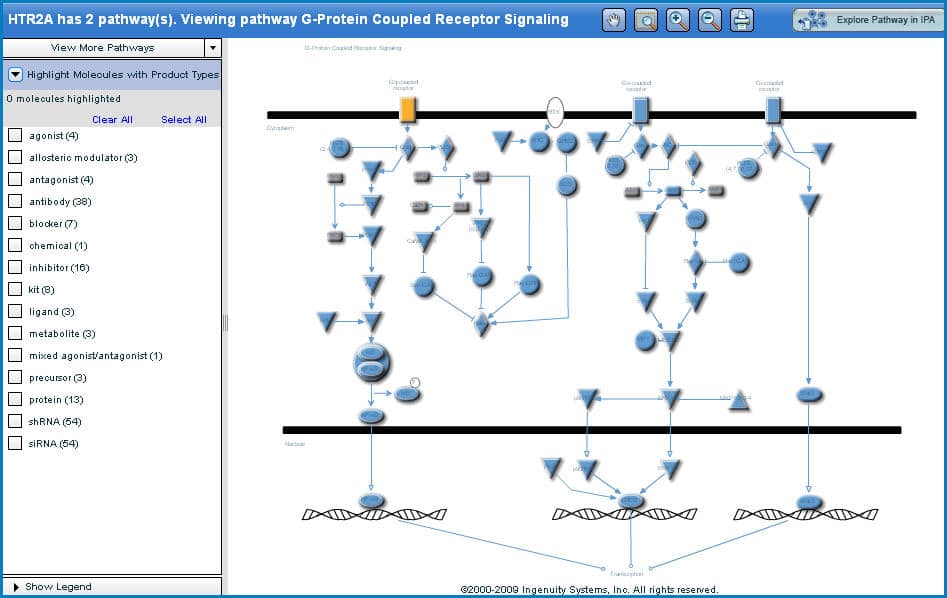 The
Product List tab is one of the catches that allow this tool is free; not surprisingly provides a list of all Sigma-Aldrich products associated with your gene.
However, you are not required to buy anything to use YFG, so don't let this stop you from trying it out.
The other catch is that although Ingenuity provides a lot of biological network info for YFG, what you can do with that info is limited. If you want to build on the data you've found using YFG, you'll have to actually use another resource called "Ingenuity Pathways Analysis", which is subscription-based.
Check to see if your institution has a subscription before you sign up for a trial. My institution does have a subscription, and I have to admit that it's a great tool.
This is just a brief intro to YFG. If you're interested, I recommend you play around with it, and be sure to watch the tutorial.
And, as always, let us know what you think about it!