Be A Bio-Rockstar with ClusterMed

Back in October, Nick wrote about the scientific literature searching resource GoPubMed. Today I want to introduce all of you to another rocking PubMed search engine called ClusterMed.
Freely provided by Vivisimo, Inc. ("Search Done Right"), ClusterMed uses the Vivisimo Velocity Search Platform "to organize PubMed's extensive inventory of medical research articles into dynamic categories that help users easily navigate search results."
Okay, great – but what does this *really* mean and how is it going to help you, the average rockstar molecular biologist?
First off, let's have a look:

Wow. Very, umm, Google-y, and not much rock n' roll going on.
But how about this: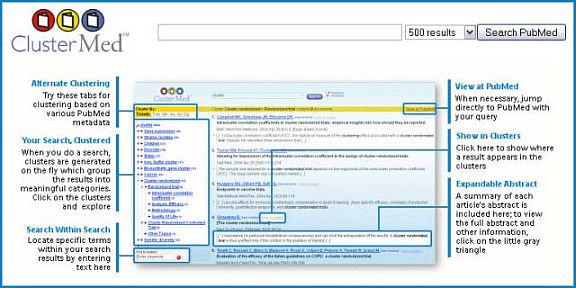 Now we're rocking.Here's what's cool about ClusterMed – it lets you, the average rockstar molecular biologist, search the actual PubMed database that you oh-so-love the same way that you probably always have (i.e. typing a keyword or two, unless you're an international rockstar molecular biologist and you actually use Medical Subject Headings, aka MeSH terms).
HOWEVER, instead of providing you with the search results in a merely static manner (i.e. chronological or by first author last name), you get dynamic results that are clustered into meaningful categories.
This is great! Clustered results can save you A LOT of time when you're doing a search by quickly helping you to separate the wheat from the chaff. Let's try and jam with it, shall we?
Say you're interested in the connection between oxytocin and memory (thanks, Science!).Enter the terms in ClusterMed and you'll get back over 200 results, which may be more than you want to scan through.
Well, just look to the left side of the page at the Clustered Results and you can immediately see organization of results beyond your initial keyword search.Think of it as an easier way to browse, but for highly relevant information.As you look through the list, you may decide that you're really interested in the relationship of oxytocin and memory with NMDA receptors (3 papers) or in finding useful receptor knockout mice (5 papers).
It's all right there, without you having to spend your precious time scanning a long list of mostly irrelevant-to-your-needs papers. And there's a bonus track – you can further refine your search by searching for additional topics within your clustered results. Isn't searching the literature fun now?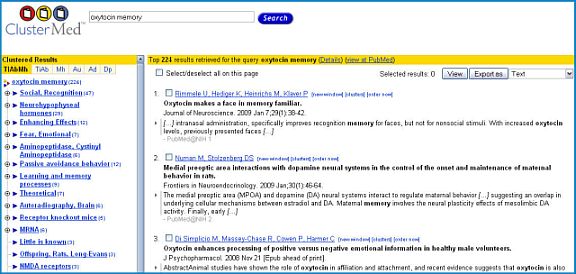 Results may be clustered by author, affiliation/location, and date of publication in addition to keyword or MeSH term. If you choose, you can also view the results directly in PubMed, although you'll lose the clustering, and that's the reason you're using ClusterMed in the first place, right? Finally, you can select papers of interest and export them as text, HTML, RIS or XML.
This is just an introduction to the wonder that is ClusterMed. Master it and you can you can rock with the big boys.
Go play around with it and let us know what you think? How does it compare with GoPubMed?