Pubmed + RSS + iGoogle = Easy Lit Updates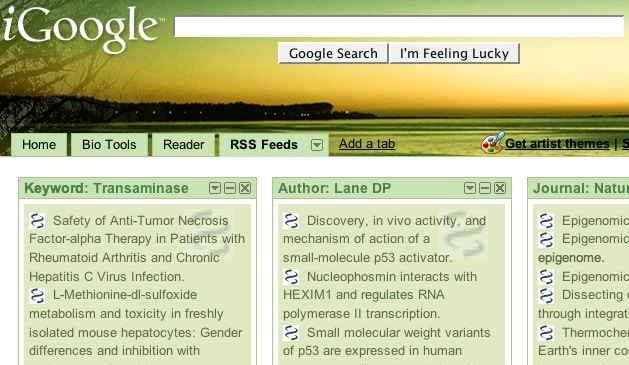 We've talked before about ways to use technology to help you with the vital job of keeping up with the literature (see here and here). Now here is another one to add to the list.
This approach was first flagged up by Eric (thanks Eric!) in a comment on Carrie's article about improving your Pubmed searches. The idea is to use the combined power of Pubmed, RSS feeds and iGoogle to create a page of RSS feed boxes that will keep you continually updated on articles containing your keywords of interest, or from specific authors or journals. It is nice and simple, but I find it an incredibly powerful and fast method of literature scanning compared to email updates or browsing each journal individually.
So here's how to set it up.
1. If you haven't already got one, you'll need an iGoogle account. Just sign up at iGoogle.com.
2. In your iGoogle account, click the "add a tab" button to add a new tab, and name it "RSS Feeds", or whatever you like.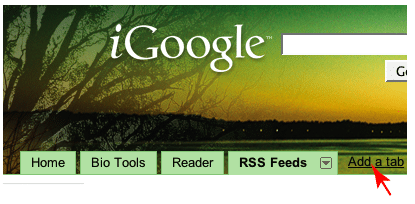 3. Now go to Pubmed and search for a keyword, author or journal (or any combination of these you want) on which you want to be kept updated. Read Carrie's article on Pubmed searches for some great ideas on how to perform optimal searches. One especially good tip is to use field tags to target your search:
e.g.
Nature[TA] will bring up all articles from the Nature journal ([TA] is the journal title field tag)
Lane DP[AU] will bring up all articles written by DP Lane ([AU] is the author field tag)
Transaminase[TIAB] will bring up all articles with Transaminase in the title or abstract ([TIAB] is the field tage for Title and Abstract)
4. When you get the search results, click on the "send to" drop-down menu and choose "RSS" feed.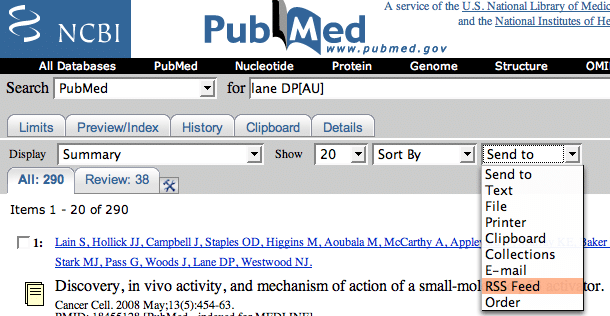 5. In the window that you are sent to, choose a title for the feed and the number of articles you want to be displayed. Then click "create feed".

6. Clicking on the orange XML button will then take you to your feed. Copy the feed address (URL) from your browser's address window.
7. Now you need to add a feed reader to your iGoogle page. iGoogle has many available RSS feed gadgets but the best are: Simple rss reader, CustomRSS, Slim RSS Reader, and Feeds in Tabs. To add one of these click on the "Add stuff" link then search for the gadget (or just search for "RSS reader" and choose your own) and click "Add It Now" to add it to your iGoogle page

8. Back in your newly created iGoogle RSS feed page, click the down arrow>edit settings in the RSS feed box you have justed added. Paste your feed address into the "FEED URL" box and add the title of your choice to the "Custom Gadget Title" box, then hit "save".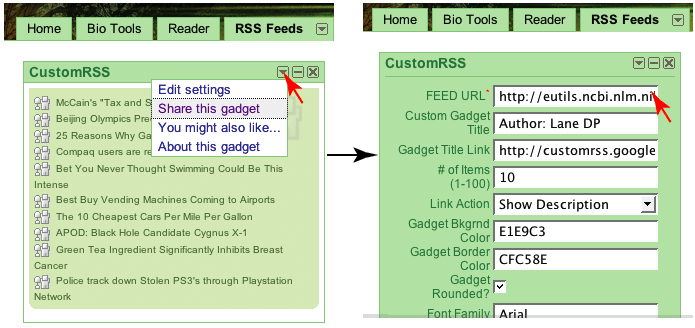 9. To add another feed, go back to step 3. Repeat until you have a page full of feeds than you can easily scan to keep up with your various literature focuses. Remember that in iGoogle you can drag and drop your various feed gadgets so that they are ordered on the page in the way that you want.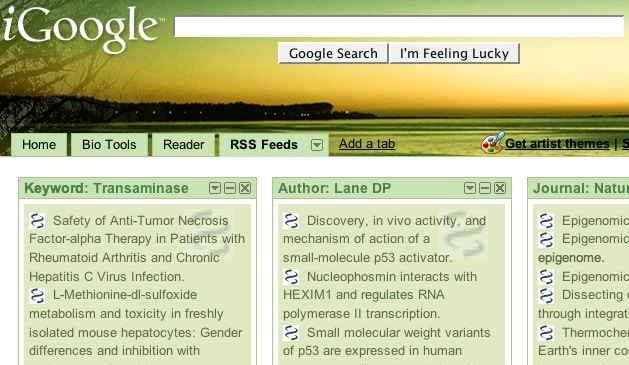 Think this is any good? Got a better way to keep up with the literature? Let us know in the comments…