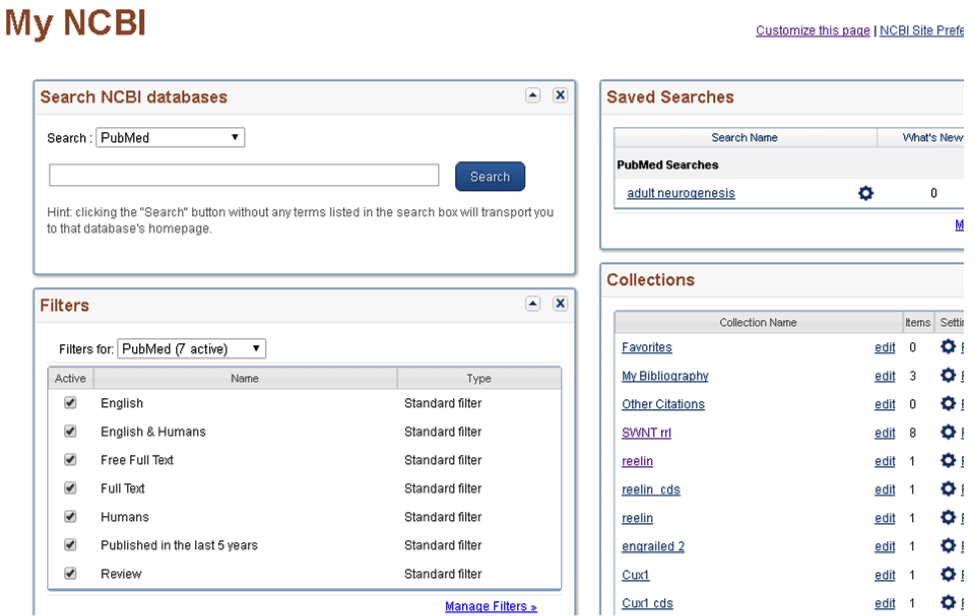 Literature searches are a constant in every scientist's daily life. We spend (or should spend) most of our time accumulating information. We search the literature before we start a new project, while we're writing a grant proposal, when we're designing/troubleshooting a tricky experiment, when we finally write that manuscript, and even when everything is going swimmingly but we need to stay abreast of what is current in our field. And while there may still be some of us who have a paper journal subscription, or who searches through their university library's archives, let's face it: most of our research and literature searches are now done online (the fact that you're reading this post also proves my point!).
For the biomedical and life sciences, the go-to website for literature searches is PubMed, which is maintained by the National Center for Biotechnology Information (NCBI) at the National Library of Medicine (NLM). PubMed gives you access to citations within the MEDLINE database, as well as life science journals and books. From my years in grad school, I have accumulated several handy PubMed tips and tricks on optimizing literature searches, and I would like to share them with you.
MyNCBI Account (Create Your Own Account: myNCBI)
First off, in order to access additional features, you need to create a myNCBI account. Trust me, you would want to do this anyway. This account gives you so many great resources, not just for PubMed, but for other NCBI databases and tools as well (although I don't claim to be an expert on all of them!). Right now, I want to focus on literature searches using PUBMED and more specifically, on how to save and organize your searches. So, set up your account first, then come back, and follow along with my tips on how to use PubMed with myNCBI.
PubMed Tips
I. Utilize the Search Options and Filters
The PubMed search engine works basically like an Internet search engine. You enter keywords or phrases, and PubMed returns relevant citations. The Advanced Search Builder (see highlighted) allows you to create a more specific search with several relevant keywords, including authors, publication date, ISBN, and so on. You can also apply Filters (see highlighted) that you have previously set in your myNCBI account.
Another way to narrow down your search is to limit it to Topic Specific Queries. If you are looking for, and have some relevant information about, a specific citation or citations, you can select the Single Citation Matcher or Batch Citation Matcher (see highlighted) and enter the citation information into the boxes.
II. Save and Export Your Searches
The second cool feature of PubMed is the ability to save your searches. This feature allows you to save, organize, and export your search results. There are several options on how to save your search:
Clipboard – saves results from one or more searches temporarily (deleted after 8 hours of inactivity)
Collections – more permanent way to save results in your myNCBI account (you can create and customize your own collections)
File – exports a text file of your search results and saves it to your computer
Citation manager – exports results to your citation management software (e.g., Endnote, Reference Manager, ProCite, etc.)
Email – pretty self-explanatory
IMPORTANT: If you want to save specific search results, make sure to click on the circle field to select individual results. Otherwise, the entire search results will be saved.
III. Set Up Search Alerts
This is especially useful when you are trying to keep up with the latest publications in your field of interest (your favorite gene/protein/signaling pathway/disease). There are two ways of receiving your search alerts: Email Alerts (1) or an RSS feed (2). The step-by-step process on how to set up email PubMed alerts or an RSS feed with your PubMed search alerts has been previously covered by two excellent Bitesize Bio articles. You can also view and edit your saved searches on your myNCBI page.
And there you have it! Follow these three steps and you're on your way to becoming PubMed search savvy. I hope you learned a lot. Questions, comments, suggestions are always welcome!
For more tips on keeping track of the scientific literature, head over to the Bitesize Bio Managing the Scientific Literature Hub.
References
Magub, S. Setting up a PubMed Alert in 3 Easy Steps. Bitesize Bio. 2012
PimpMyPhD. How Not to Miss (Almost) Any Article on PubMed. Bitesize Bio. 2012