18 Ways to Improve your PubMed searches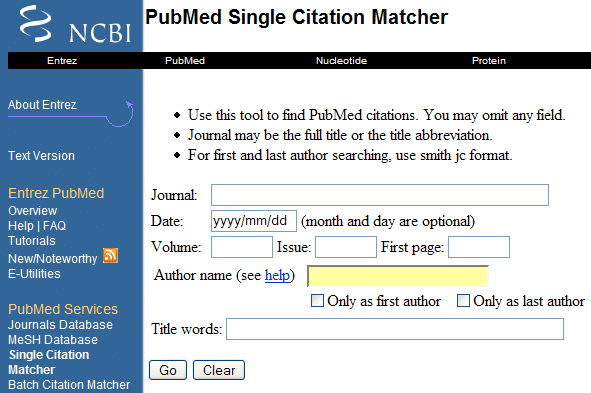 Do you *really* know what you're doing when you search for articles in PubMed?

Are you familiar with Boolean operators?

What does "MeSH" mean to you?

Can you locate (and use) the Limits tab? History? Details?

Have you set up automatic updates with MyNCBI?

Do you know how PubMed relates to the other NCBI databases?
If you're like me (before I wised up to the search power of PubMed) you probably just type in your topic of interest and press Go. And then you get back about 8 billion results, which – this is just a guess – is far more than you're likely to read.
Here are a few basic tips to help you get the most out of your PubMed searches without wasting a lot of time slogging through pages of results, thus getting you back to the bench ASAP. Unless, of course, you're avoiding the wet lab,not that I've ever used literature searches and background reading as an excuse to step away from the PCR machine,
Basic Searching
Boolean Operators
You probably already use them, but may not know their formal name. Boolean operators – AND, OR, NOT – are used to combine search terms, and in PubMed they must be in UPPERCASE.
AND is used when you're looking for articles that contain ALL of your search terms (narrows your search).

OR is used when you're looking for articles that contain AT LEAST ONE of your search terms (broadens your search; often used for synonyms).

NOT is used when you want articles that EXCLUDE your search term.
Say you're interested in articles about cell death in the postnatal olfactory bulb. Here are the results from a VERY simple search that is the likely starting point for most searchers. It may be a "good enough" search for you, but keep reading to discover ways to refine your results.
| | | |
| --- | --- | --- |
| Search Terms | # Articles | Explanation |
| olfactory bulb AND cell death | 244 | Basic starting search |
| olfactory bulb AND apoptosis | 163 | Another term for cell death |
| olfactory bulb AND (cell death OR apoptosis) | 273 | You want all possible articles on this topic |
| olfactory bulb AND (cell death OR apoptosis) NOT development | 181 | But you don't want papers on prenatal development |
Truncation
Use * to replace one or more characters at the end of your search term. This can be very useful if you're doing a broad search and will accept multiple forms of your search term, including plural.
Example: devel* (retrieves develop, develops, development, developmental, developing, etc.). Note that if you enter in too truncated a term, you will get a warning about only receiving the first 600 variations, so you'll need to lengthen the root word search to get meaningful results. Also keep in mind that truncation restricts your search to keywords only.
Single Citation Matcher
This tool is extremely handy if you're trying to locate a specific reference in order to access the full text (assuming your institution has a subscription). A very quick way to use it is to start entering the journal name (a menu of possible titles pops up), the publication year, and the last name of the first author (restricting choices to "only as first author"). You can be more thorough with the information you enter, but this strategy usually results in only one entry, or at most just a few, and then you can locate the one you really want.

Reviews Tab
Here's another one you probably already know, but it's worth pointing out just in case. Anytime you perform a search, the default results page is for "All" results, no matter the type of article. If you're only interested in review articles, simply select the "Review" tab. In the example described above, there were 11 review articles for "olfactory bulb AND (cell death OR apoptosis) NOT development", so that might be a good place to start, especially if it's a new topic for you.

PubMed Databases
MeSH Database
This one's a biggie. MeSH stands for Medical Subject Heading, and is the controlled vocabulary used to index all of the articles in PubMed. Every article is indexed with multiple headings or subheadings. When you enter a term(s) into the PubMed search box, it is automatically translated into a corresponding heading – a lot of the work is done for you, behind the scenes. Headings are arranged in a hierarchy, and the subheadings are used to narrow down the topic.
In our cell death/apoptosis example, the term "cell death" is actually higher in the hierarchy than "apoptosis", which is a type of cell death (along with necrosis and autophagy). PubMed searches will automatically include all of those terms lower in the hierarchy, unless you choose NOT to have them included (by selecting "Do Not Explode this term").
Think of it this way: if you search for "cell death" you will automatically pull up articles related to "apoptosis" (broader search); if you search for "apoptosis" you will only pull up articles indexed as such, and will miss other cell death-related articles (narrower search). And that more specific search may be what you want.
Subheadings for cell death include drug effects, genetics, immunology, physiology, radiation effects. So if you're only interested in the genetics of cell death/apoptosis, then you can select that subheading to refine your search and get rid of less relevant articles.
MeSH Search Terms

# Articles

olfactory bulb AND cell death

135

olfactory bulb AND cell death/genetics

18

olfactory bulb AND apoptosis

81

olfactory bulb AND apoptosis/genetics

15

olfactory bulb AND (cell death/genetics OR apoptosis/genetics) NOT embryonic

development

16
Something interesting happens when you search for the term "development" in MeSH – you get 75 possibilities, including "staff development", "United States Agency for International Development", and "human development". You're only interested in "embryonic development" (i.e., to ultimately exclude it), so select accordingly.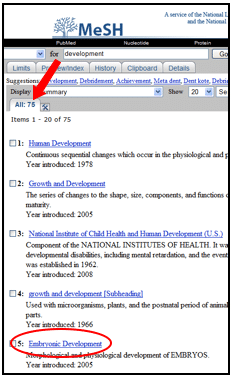 Bottom line – why use MeSH instead of just entering in your search terms like you normally do? Primarily because using it helps you locate specific, highly relevant results very quickly. Try it, if you don't already, and see what you think.
Journals Database
Also accessible via the blue left-hand column, the journals database has a couple of fun features. It provides links to full-text websites and also lets you see all of the PubMed-indexed journal titles arranged by subject matter (e.g., molecular biology, biochemistry, laboratory techniques and procedures). That can be handy if you're trying to figure out where to send your own journal article (although I'm sure it will be accepted right off by Science or Nature).
Tabs
Limits
You may have never paid attention to them, but the 5 tabs underneath the PubMed search box provide a lot of useful features. If you use none of the others, at least become familiar with the Limits tab. This feature allows you to yet again refine your search, even the most basic variety, by specifying language, publication date, links to full text, type of article, and more. Especially useful if, say, you only want free full text in Portuguese published from 2000-2005 on Cancer-related articles using adolescent human females as the subjects (FYI, there are >150 articles with these parameters!).
Preview/Index
The Preview/Index tab allows you to narrow a broad search term by adding additional terms. It's a powerful tool that can really help with your search, but in the interest of brevity I just want to highlight one particular aspect – the Index button. Enter a search term, such as olfactory bulb, in the appropriate search box and select the Index button. What you'll get is a huge list of terms followed by numbers in parentheses. That is, there are 9,845 articles indexed for "olfactory bulb", with 80 for "olfactory bulb/abnormalities", 36 for "olfactory bulb/blood supply", etc. So if you take your original search of "olfactory bulb AND (cell death OR apoptosis) NOT development" (search results = 181) but decided you were only interested in the physiology of the olfactory bulb (index results = 2675) as it relates to this topic, you would select that from the index, add to your original search query, and get back a mere 37 results. Think of the time it saves you from having to go through all 181 original results!
olfactory bulb (9845)
olfactory bulb/abnormalities (80)
olfactory bulb/analysis (125)
olfactory bulb/anatomy and histology (640)
olfactory bulb/blood supply (36)
olfactory bulb/chemistry (286)
History
The History tab is absolutely invaluable for you to keep track of all of your current searches. It also makes it easier for you to combine searches, since they're all identified by a number. So you can combine "olfactory bulb" (search #29) with "apoptosis OR cell death" (search #32) and development (search #33) like this: #1 AND #4 NOT #5. That way you don't have to keep typing in the same search terms, over and over again.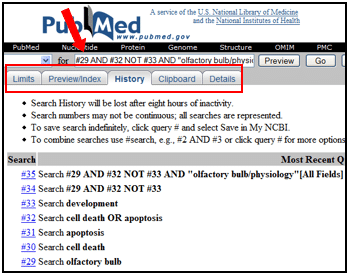 Clipboard
The Clipboard tab is like a temporary holding bin for your search results. As you're collecting results, you can send them to the Clipboard (up to 500 items) and then decide whether you want to email them, print them, and/or save them.
Details
The Details tab lets you see exactly how PubMed is performing your search. For example, your relatively simple search for "olfactory bulb AND (cell death OR apoptosis) NOT development AND olfactory bulb/physiology" actually translates into PubMed as:
style='font-size:10.0pt'>("olfactory bulb"[MeSH Terms] OR olfactory bulb[Text Word]) AND (("cell death"[MeSH Terms] OR cell death[Text Word]) OR ("apoptosis"[MeSH Terms] OR apoptosis[Text Word])) NOT ("growth and development"[Subheading] OR ("human development"[TIAB] NOT Medline[SB]) OR "human development"[MeSH Terms] OR development[Text Word]) AND "olfactory bulb/physiology"[All Fields]
Aren't you glad you don't have to type all of that? It's always good to look at this information if you have any question about the particulars of your search, or if you get results that are either too narrow or even too broad – you can always refine the search and run it again.
Search Results
Display
In brief, underneath the various tabs are a few options that allow you to choose how you want your results to be displayed. The default display is Summary, which lists basic information about the article. If you would also like to see the abstracts without having to click on the actual link (useful for printing/email), select AbstractPlus. If you want to see all of the MeSH terms associated with a given article, as well as the abstract, select Citation. Play around with the options to see what works best for you.
Sort By
If you have a huge results list but are looking for a specific article within that list, Sort By allows you to arrange the results by Publication Date, First Author, Last Author, or Journal Title.
Send To
The Send To menu provides options on where to send your results: Text, File, Printer, Clipboard, E-mail, RSS Feed, or Order.
Links
Related Articles
Once you've selected an article and are looking at the abstract in PubMed, you may have noticed a list of articles entitled "Related Links" to the right of the abstract. These are articles that the powers-that-be at NCBI/PubMed have determined to be most similar to the article you're currently looking at, and they're displayed in ranked order from most to least relevant.
This list is created using a word-weighted algorithm based on words from the title, abstract, and MeSH terms. This related articles feature can be very useful when you're exploring a new topic, and it can be a lot of fun to start exploring what's essentially a trail of breadcrumbs,but be careful you don't get lost while you're looking and forget where you started!
Links to other NCBI resources
Here's yet another indispensible feature in PubMed (aren't they all?) – many of the articles you'll pull up in your searches also have links not just to the full text of that article (again, based on institutional subscriptions) but also to many of the bioinformatics/molecular biology databases and resources created by NCBI, such as Entrez Gene, HomoloGene, GEO Profiles, PubChem Substance, and many more.
That way you can jump immediately from the article to the hardcore data associated with that article – and once again save a lot of time by not having to search for the data in all of the individual NCBI databases. The shortcut to all of this information is simply displayed under "Links", which is found to the far right on any PubMed results page. Note that the type of information available varies by article.
Search Support
My NCBI
My NCBI is a central place to customize all of the NCBI services. You can use it to save the results of your searches and to set up e-mail alerts to let you know when new articles are published on your topics of interest. You need to register for this service – I recommend you do so, at least to sign up for the automatic alerts. That way you'll always be aware of new results in your field, particularly from journals that you might not check on a regular basis.
Tutorials
Finally, the last tip. This is the place to go if you have any questions or need more in depth information about PubMed, MeSH, or any of the features I've mentioned here. There's lots to discover, so happy searching – and get back to the bench!
Many thanks to Melissa Ratajeski, MLIS, RLAT, for her help preparing this article.
Carrie Iwema has a PhD in Neuroscience, was a postdoc at Yale, earned a Masters in Library Science, and worked as a Basic Science Librarian for the Johns Hopkins Medical Institutions. She currently is a Molecular Biology Information Specialist for the Health Sciences Library System at the University of Pittsburgh. She can be contacted by email at iwema [you know what to add in the middle] pitt.edu.