BiomedExperts: An Alternative Way to Search The Literature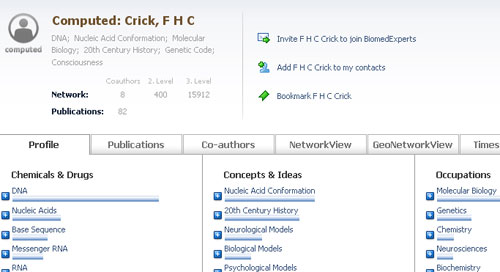 If you have ever looked closely at Pubmed, you might have noticed that it's not easy to search for all publications by a single author, to see everything that your collaborator has published or to see what the top people in your field are publishing.
Pubmed just isn't set up to allow you to focus on individual authors. Try typing "Smith J[AU]" into Pubmed and you'll see that! Publications from every John (or Jane or whatever) Smith are mashed together and it impossible to tell who's who.
But BiomedExperts, a service set up by a German company called Celloxis, solves this problem and allows you to search the literature in a whole new way.
How BiomedExperts Works
The approach that Celoxis used to create BiomedExperts is simple (apart from the maths).  They used custom made algorithms to "mine" every article ever placed on Pubmed, pulling out authors, subject keywords and institutions. Then they put it all back together from the authors down to make a profile for every single author that lists all of their publications, their collaborators, the subject areas they work in and the places where they have worked.
And they use a very clever technology (another algorithm) that creates a "fingerprint" of each author's keywords, places and years of work to tease apart individual authors who have the same name. So the John Smith who works on 14-3-3 proteins can be distinguished from the one who works in bioinformatics.
The Power of the Profile
The individual user profiles are invaluable if you want to comprehensively look at the work of one eminment scientist in your field (or someone you want to interview). The profile immediately lets you see the subject areas the person has worked in, all of their publications and the places in which they have worked. Good stuff.
As an example, below is a snapshot of the profile of Francis Crick… can't quite remember what he worked on – something to do with DNA I think.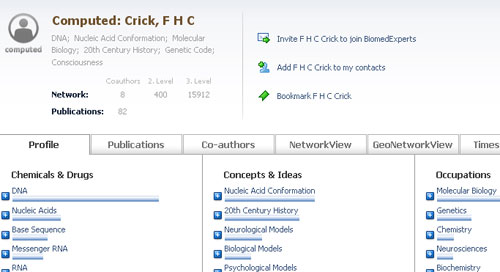 Making and Navigating Author Networks
But that is just the beginning because those individual profiles are then linked together into networks that gives the user endless ways to trawl through the literature. For example, clicking on DNA in Francis Crick's profile gives a list of all authors who have the same keyword in their profile. Choosing the "collaborators" button shows everyone who Crick published with in his career and the "network view" (see image below) pulls up a diagram of all of Crick's collaborators.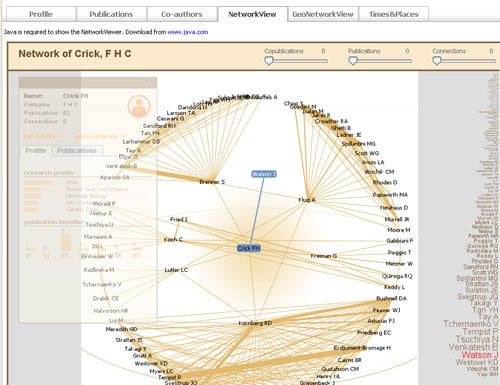 Clicking on an author name from any of these views pulls up the individual author profile, from which that author's publications can be accessed. This makes Biomedexperts a very powerful alternative literature searching tool that allows you to get a comprehensive overview of the work done by individuals in specific fields, who the big hitters in a field are and who they are working with. I have been using it for the last few months and have found it very useful.
Your own profile
If you have published in Pubmed then your profile will probably (occassionally it makes mistakes) be on BiomedExperts waiting for you to claim it. You can sign up, verify that your publication list is correct and add your contact details so that others can get in touch.