Get PDFs ASAP with Pubget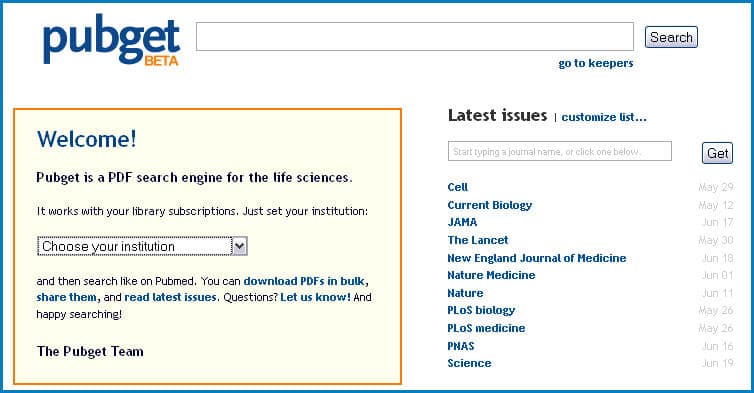 After quite a long hiatus (which included a conference in Hawaii, whoo hoo!), I'm back to highlight a cool and relatively new search engine for scientific literature that is going to make you squeal with glee (ok, it made me squeal at least).
I'm assuming that you're very familiar with how to identify relevant research articles using PubMed and Google Scholar. You go through the process of entering your search terms, getting a long list of results, scanning the titles, skimming an abstract, deciding you do indeed want to read the entire article, then jumping through some hoops, following a few links, and sacrificing your first born child to finally arrive at the full text article itself.
Well, Pubget takes those final steps out of the equation by not only helping you search for your articles of interest but also supplying you with the PDF – immediately – as part of the results, with no sacrifice of your offspring required.

SQUEE!!!
Okay, don't be too excited, you're not getting unlimited access to free articles. The only way to the full text is if it is open access or your institutional library has a subscription to the journal. You're encouraged to add your institution if it's not already listed.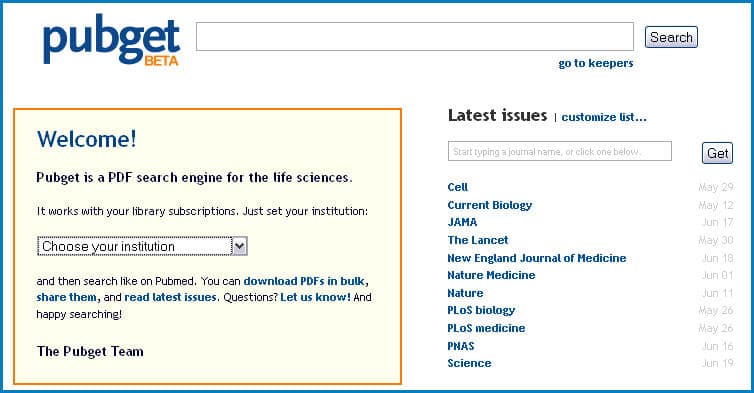 The big deal, though, is that using Pubget offers a much much faster way of getting to the info you need. According to their Mission Statement:
Each year, scientists spend at least a quarter billion minutes searching for biomedical literature online. This is time they could better spend curing disease and building the future. Pubget's mission is to give them that time back.
One really convenient feature of Pubget is that right on the home page it provides customizable links to top scientific journals, thereby allowing you to easily browse the most recent issues of your favorite publications and instantly read the PDFs of any interesting article. Again, it only works if you have access rights!
You can also create a personal library of "keepers" on the site, as well as take advantage of the Pubget RSS feed to receive automatic updates on your favorite topics without the hassle of recreating your search each time.
Right now, Pubget is free, although the developers mention that "premium services" are coming soon.
So check out Pubget for free while you can and see if it really does give you back your time!