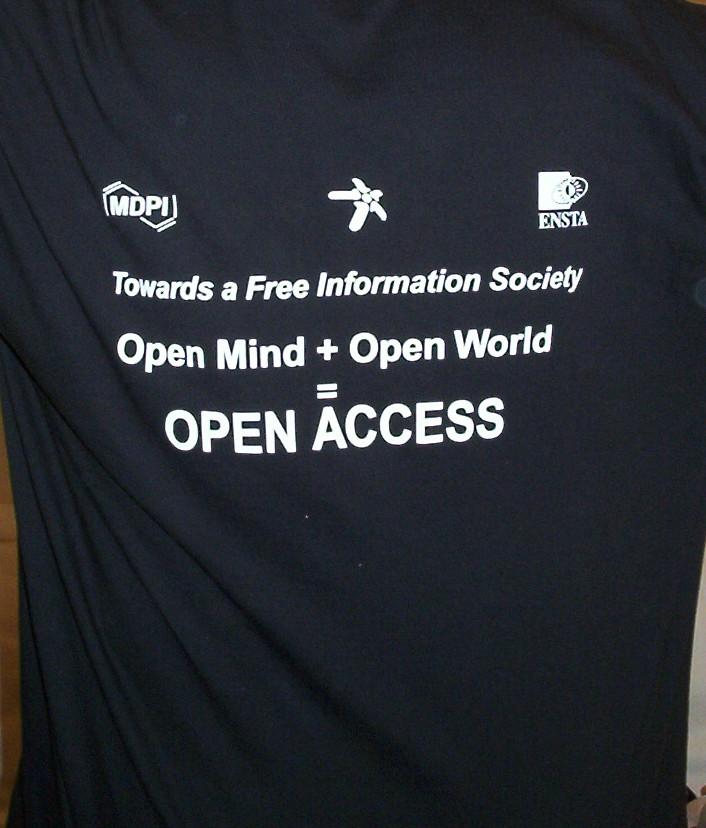 The Public Library of Science (PLoS) defines the issue of Open Access Publication as:
An Open Access Publication[1] is one that meets the following two conditions:

1. The author(s) and copyright holder(s) grant(s) to all users a free, irrevocable, worldwide, perpetual right of access to, and a license to copy, use, distribute, transmit and display the work publicly and to make and distribute derivative works, in any digital medium for any responsible purpose, subject to proper attribution of authorship,[2] as well as the right to make small numbers of printed copies for their personal use.

2. A complete version of the work and all supplemental materials, including a copy of the permission as stated above, in a suitable standard electronic format is deposited immediately upon initial publication in at least one online repository that is supported by an academic institution, scholarly society, government agency, or other well-established organization that seeks to enable open access, unrestricted distribution, interoperability, and long-term archiving (for the biomedical sciences, PubMed Central is such a repository).
It is derived from the Creative Commons Attribution License, and can more simply be described as "scientific works gleaned from government funding should be publicly available."
That's not a radical idea. However… around where I work, I generally don't get the impression that Open Access is a big deal. So I have to go through an inconvenient login process to get access to published studies – big deal, right? Sure, as long as my access to Cornell University's library gateway doesn't get cut off, with its subscriptions to 26,000+ electronic journals (I should go double-check that I'll always get access, now that I've gone alumnus).
But Open Access isn't just about me, and the published works that I can get my hands on. What happens with the data that I publish? Why should others profit from my work, because of subscriptions? Okay, the publishers need to recoup the costs of printing and distributing the journals, and compromises can be made, and they are. Current policies protect subscription-only access for up to 12 months, here in the United States, for NIH-funded research. There's debate on modifying this in various ways, and that's fine.
What this author finds interesting however, is what impact Open Access Publication can have upon the public appreciation and understanding of scientific research and the peer-review process. Will it promote scientific literacy? Will the educated non-scientist read journals like PLoS Biology? (Do they already?)
It seems to me that the educated non-scientist stands to gain the most from Open Access advocacy. But does this faceless person of the masses care?
Answer: Open Access probably will promote more discussion among scientists where the public can see how such dust-ups resolve themselves. Better understanding of how the peer-review process works, and what tax dollars are going towards, is a good thing.
For more, check out Open Access News or the recent flap over American Chemical Society vs. Open Access.