Reading papers (still) remains the standard way to follow advances in our field(s), to track our collaborators/competitors, or to enjoy some digressive but scientifically entertaining moments. As scientists, we read all the time. However, reading can become a highly chronophagic activity, especially when we need to perform experiments, attend conferences and write grant applications at the same time.
To streamline our reading activity, an ideal situation would be where we are notified as soon as an article of our own interests is published. Well, this ideal situation actually exists, and has for a long time now: Since June 2005, PubMed search results can be generated as an RSS feed  (1).
Here, I will describe the way I'm combining RSS feeds for PubMed search results with Google Reader and a GreaseMonkey add-on to obtain a nicely readable list of articles pertinent to my own interests (Figure 1).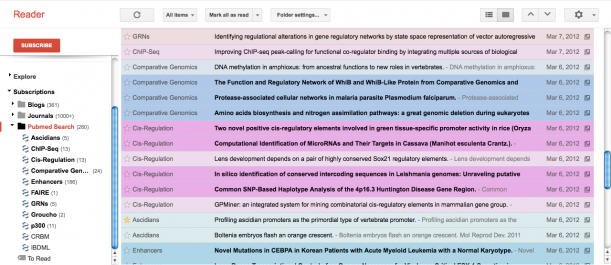 Figure 1 : PubMed RSS feeds, in GoogleReader, with the Colorful List View add-on. Each PubMed search is displayed in one specific color. You can easily guess what my own interests are.
Note : You may already be familiar with PubMed search email alerts, as they have been recently described on BitesizeBio (2). Personally, I find that this method has the potential to further inflate your already about-to-explode email inbox.
---
Procedure
What you need to have:
What you need to do:
Once you have familiarized yourself with PubMed searches, set up a GoogleReader account, installed the GreaseMonkey add-on, and then installed the Google Reader Colorful List View (pheeew…), you can 1- consider yourself a serious geek, and 2- go through the following steps to set up your reading list.
1- Perform a (relevant) PubMed search
We all know how to search PubMed: no need to sign up, no need to sign in. Just search.
Note:  PubMed searches can be highly sensitive to subtleties like singular/plural, dashed/not-dashed, etc.
2- Generate an RSS feed from the PubMed search
Once you have performed a relevant PubMed search, you will need to generate an RSS feed from it. To do so, click on the RSS icon just below the PubMed search bar (Figure 2A).
A tiny window will pop up : set the number of displayed items (I usually set it to the maximum value (100) to obtain the most results), change the feed title (you can also do that later in GoogleReader), and click on the "Create RSS" button. An XML icon will appear (Figure 2B): click on it.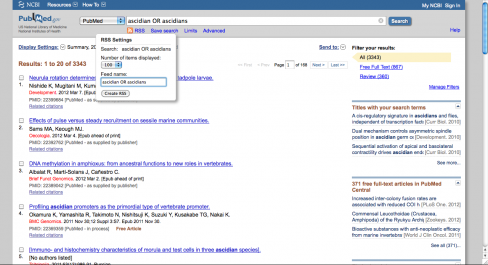 Figure 2A : RSS feed icon and menu.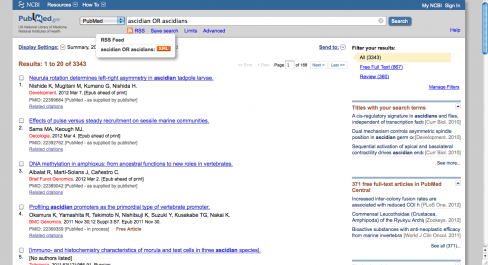 Figure 2B : RSS feed link to an XML file.
A new window will open (Figure 3) : You might see something different, depending on your browser. Whatever is being displayed, copy the RSS feed URL (which should look something like this: http://eutils.ncbi.nlm.nih.gov/entrez/eutils/erss.cgi?rss_guid=#####).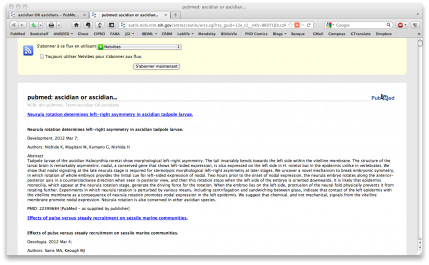 Figure 3 : One of the possible displays of the XML file. We just need to copy the URL in the browser address bar.
Note : You can also find an animated procedure on how to generate an RSS feed from a PubMed search in the Tutorial section of the PubMed help page (3).
3- Import the RSS feed into GoogleReader
Once you have generated a RSS feed, you will need to import it into GoogleReader. To do so, create a new subscription in GoogleReader, paste in the previously copied RSS feed URL, and click on "Add" (Figure 4A).
GoogleReader will automatically update its display and the PubMed search results should appear (Figure 4B). It will also automatically update as soon as the RSS feed is updated, i.e. every time a new article is published that matches the criteria that your set. Your only effort now will be to browse through the articles.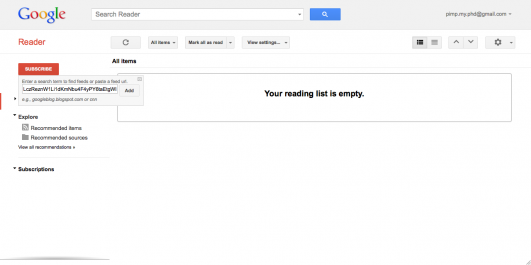 Figure 4A : A new RSS feed subscription in GoogleReader. All you need to do is paste the URL in the subscription bar.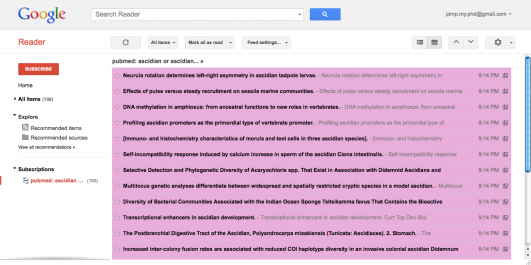 Figure 4B : Instant display of the PubMed results in GoogleReader. You have now completed all of the technical considerations.
You can change the display to your own convenience by playing with GoogleReader settings (which I'm not going to discuss here). GoogleReader has a number of other interesting features (starring, tagging, emailing, etc.) that you may want to explore by yourself.
Note : The Colorful List View add-on for GreaseMonkey allows each RSS feed to be displayed with a specific color (Figure 1). This considerably increases the readability of your article list, especially when you accumulate lots of different RSS feeds.
Advantages and limitations
Once you've poked around this system and gotten used to GoogleReader features, I think its advantages will become very clear to you. There are of course some limitations, though I suspect these will fade as your skill with using PubMed searches increases.
Advantages:
Automatic and live update of published articles.
Fast to browse, nice to read, easy to organize.
No email in your inbox.
GoogleReader features : You can star, tag, share and much more. Just play with it.
Limitations:
Risk of missing articles if your PubMed search is too stringent.
Risk of getting buried under tons of articles if your PubMed search is not stringent enough.
Risk of not browsing on PubMed anymore, which could mean missing some interesting, though unrelated, papers.
I hope you find this technique useful or interesting.  Tell us what you think in the comments section!
References
(1) Canese, K. RSS Feeds Available from PubMed®. NLM Tech Bull. 2005 May-Jun;(344):e2.
(2) Magub, S. Setting up a PubMed Alert in 3 Easy Steps. BitesizeBio. 2012.
(3) RSS. PubMed Tutorial. NLM/NIH. 2011 Mar.