Laura received her PhD in Molecular Biology at the University of Dundee before moving into the world of scientific publishing. She has previously worked as an Assitant Editor for the journal Genome Biology and has had various roles in scientific publishing. She is now a Managing Editor at Bitesize Bio.
Articles by Laura Grassie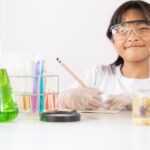 It's easy to let organizing your lab book slide down your list of priorities. Read our guide to easy ways to keep your lab book up to date and organized.