A Video is Worth a Million Words
If a picture is worth a thousand words then video and audiovisual presentations must be worth millions.
So Jing, a free piece of  software that allows users to easily create annotated visual communications, should be an essential tool in your communications palette.
Jing allows you to capture videos of onscreen activity and easily share them over email, the Web, or IM.
In other words, "instead of typing at people, show them what you're talking about,pronto."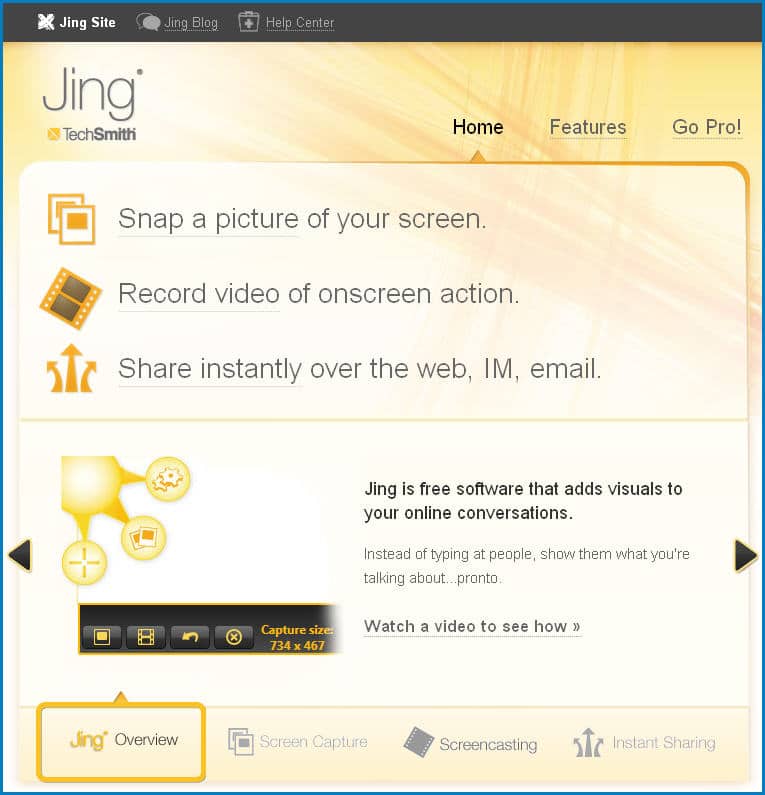 Jing was created by TechSmith, who developed a few other products you might also want to know about Screencast.com, Snagit, and Camtasia Studio.
I use the latter two all of the time in my work – I'm a BIG fan.
But back to Jing. What can you do with it? To quote directly (because they use such fun images): <
Collaborate on a design project
Share a snapshot of a document
Narrate your vacation photos
Capture that pesky bug in action
Show Dad how to use iTunes
Comment verbally on students' homework
Collect cool web designs or funny ads
Post tidbits from your life on Twitter or Facebook
The product Website is extremely user-friendly – dare I say playful–with lots of support including video tutorials (of course), FAQs, Tips & Tricks, even a Blog.
And Jing is available for both Windows and Mac users. Hurrah!
Once you capture your screen shot, you can annotate it via highlighting, text boxes, arrows, etc. Videos can be narrated, but are limited to 5 minutes in length.
Editing is not possible, as Jing is intended for the creation of short videos.Camtasia Studio software can be used if you want to create lengthier videos.
Images and videos captured with Jing can be saved on your hard drive, copied to a document or email, uploaded to Screencast.com or your own server, Flickr (images only), and YouTube (Jing Pro only).
Although Jing is free, you must upgrade to Jing Pro for a nominal annual fee if you want full-motion videos and compact files.
To give you a very basic example of what you can do with Jing, here's a link to a video I made describing how you can find the SNPs for a gene of interest using the NCBI Entrez SNP database.
Be sure to note the excitement in my voice.
Feel free to comment, perhaps using your own Jing-created video!