Zebrafish: Making Development Transparent
Posted in: Of Interest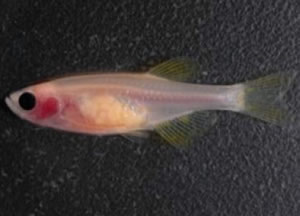 With the recent development of transparent Zebrafish, allowing scientists to directly view its internal organs, and observe processes like tumor metastasis and blood production after bone-marrow transplant, it seems appropriate to describe Zebrafish as a model organism.
Zebrafish (Danio rerio), a native to freshwater streams in Southern Asia and a common aquarium pet, is studied because its embryos are transparent and later developmental stages are therefore easily resolved. As a vertebrate, it is at least partly representative of other vertebrates, its life cycle is rather simple, and genetic manipulation is relatively straightforward. The most useful aspect of studying development in this fish however, is that its embryo is transparent (an unusual characteristic for a vertebrate) and thus scientists can observe later developmental stages, particularly relating to neurobiology. This fish is also useful in studying organ function, behavior, and toxicology.
Zebrafish embryonic development provides advantages over other vertebrate model organisms. Although the overall generation time of zebrafish is comparable to that of mice, zebrafish embryos develop rapidly, progressing from eggs to larvae in under three days. The embryos are large, robust, and transparent and develop externally to the mother, characteristics which all facilitate experimental manipulation and observation. A common reverse genetics technique is to reduce gene expression or modify splicing in zebrafish using Morpholino antisense technology. Morpholino oligonucleotides are stable, synthetic macromolecules that contain the same bases as DNA or RNA; by binding to complementary RNA sequences, they reduce the expression of specific genes.
While Drosophilia introduced Homeobox genetics to animal development, Danio made accessible the integration of genetics with classical vertebrate embryology.
Solnica-Krezel L. (1999) Pattern formation in zebrafish–fruitful liaisons between embryology and genetics. Curr Top Dev Biol., 41:1-35. PMID
Zebrafish Model Organism Database (ZFIN)