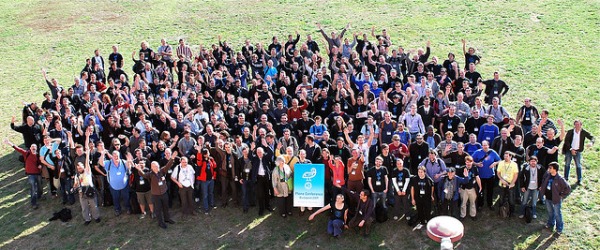 For many, myself included, the idea of attending a large conference and talking to hundreds of new people can be terrifying. Often times there are people in attendance you may want to collaborate with, or that you see as possible future employers, and you really don't want to make a bad first impression.
Luckily, there are some pretty simple tips which can help take the pressure off when you are at your next big conference.
Scope Out the Attendees Ahead of Time
Many big conferences will post a list of attendees to the meeting website or within the meeting program. Before you leave, look through this list and find the people you would most like to meet. Focus on making these connections during your time at the conference. Now, instead of trying to meet the hundreds of people in attendance, you are only trying to meet a few dozen, which is much less daunting. If there is someone who is especially important to you, don't be afraid to email them ahead of time to schedule a meeting.
Get a Business Card
While you may not be working your way up the corporate ladder, it is still a good idea to have a business card. Make sure you have your current contact information, and perhaps a few words about your research topic so the person with the card can remember you. There are many different services online to have one made, and some will even allow you to have your photo on the front. Hand one to people you meet, and it will ensure that they will have all they need to get in touch with you.
Try to Break Away from Your Comfort Zone
It is easy to spend an entire conference talking to only people you know, but do your best to make an effort to meet new people. Remember that it is a networking event, so don't be afraid to join a group of people you don't know and introduce yourself. If this is something that is difficult for you, try setting a goal of the number of people to meet by the end of the meeting, and make it attainable. If you are very introverted, try setting a goal of one to three people a night.
Introduce Yourself with a Handshake and a Smile
When meeting new people, make sure to introduce yourself and shake their hand. If the event has drinks provided, make sure to carry the drink in your left hand so that your right is not cold. Be sure to smile and ask them about themselves. Respond to their answers, as this will show interest and help you stay engaged in the conversation.
Have Fun
While conferences can be daunting events, try and have fun while you are there. People are much more likely to interact with someone who appears to be enjoying themselves, and you will get much more out of your experience.
Don't be afraid to relax and have some fun along the way!