Established in the mid 1970's, New England Biolabs, Inc. (NEB) is the industry leader in the discovery and production of enzymes for molecular biology applications and now offers the largest selection of recombinant and native enzymes for genomic research. NEB continues to expand its product offerings into areas related to PCR, gene expression, sample preparation for next generation sequencing, synthetic biology, glycobiology, epigenetics and RNA analysis. Additionally, NEB is focused on strengthening alliances that enable new technologies to reach key market sectors, including molecular diagnostics development. New England Biolabs is a privately held company, headquartered in Ipswich, MA, and has extensive worldwide distribution through a network of exclusive distributors, agents and seven subsidiaries located in Canada, China, France, Germany, Japan, Singapore and the UK. For more information about New England Biolabs visit neb.
Antibiotics are used in a wide range of techniques in molecular biology. My aim with this post is to provide an easy reference to some of the main ones used in molecular biology, their mechanisms, range and working concentrations. I hope you will find it useful.
Your Personal Antibiotics Reference Guide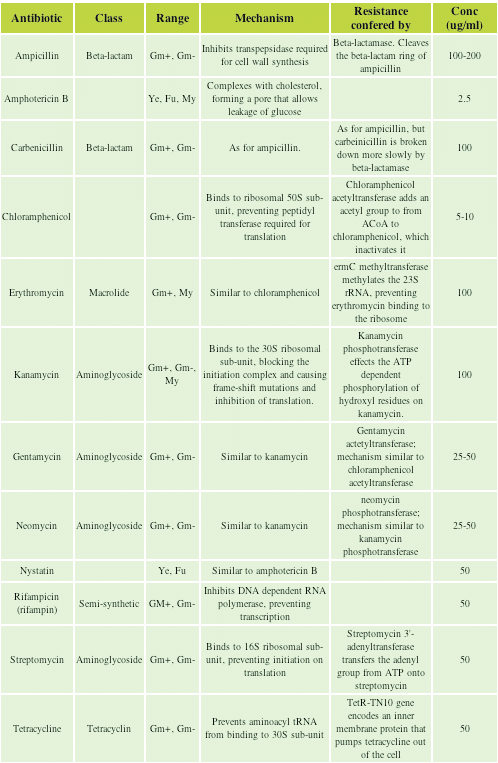 *Abbreviations: Gm(+/-)=Gram positive/negative; My=mycoplasma; F=fungus; Y=yeast.
If I have missed out an antibiotic that you use routinely in your work, please feel free to contact me or leave a comment and I will add it to the table.
Originally published on October 2, 2007.  Updated and revised on July 25, 2016.