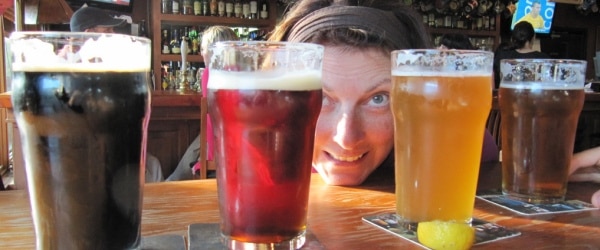 We've had some great feedback about this column lately.  I hope you enjoy today's interview as much as you seem to have liked the first couple we've covered.  There's more coming soon, looking at scientists who made the move into areas like Marketing, Regulatory Affairs, University Teaching and lots more in the pipeline.  Today, we've got Dr Tim Wadkins – a scientist with a job that's just a little bit different……
Hi Tim,
You describe yourself as a beverage scientist.  And what exactly is it that you do?
My most recent job was a short stint in winemaking during the last (2010) harvest season, and, prior to that, I was 'Director of Quality Assurance' at Victory Brewing Co.  As far as job responsibilities go, the daily tasks tend to vary widely.  The scientific aspects of the job include microbial testing of the product, monitoring of fermentation (specific gravity, temperature, etc.) and performing chemical tests to determine that the product is up to specification.  Yeast strain maintenance, both in the laboratory and in the plant for production use is a critical role, as you can imagine.  Sensory evaluation (taste, smell, visual) is also particularly important for ensuring the product is developing the way that it should throughout the production process – and also for final product release to the consumer.  And, finally, acting as the customer interface for any product questions, complaints etc. that may arise, is a pretty standard part of the job.
Would you tell us a bit about your background?
I'm a biologist at heart.  I have a B.S. in Biology from the University of Illinois and a Ph.D. in Biochemistry from Duke University.  Just after finishing my Ph.D., some friends at Rogue Ales in Newport, Oregon invited me out to brew with them for a little while, which allowed me to explore whether or not I might want to pursue a career in the industry. I loved it!  However, just after this quick venture into the brewing world, I was invited to help with the start-up of a biotechnology company (Serenex, Inc.) in Durham, NC, where I was still living at the time.  I felt this was an opportunity that I couldn't pass up, so I decided to put the idea of a brewing career on the back burner.  This turned out to be a fantastic experience, and Serenex quickly grew into a very successful company over the next few years.  During those years, I continued to maintain and grow my connections to the brewing world, always thinking that it would be fun to jump into that realm at some point.  While attending a beer festival, I learned that Victory Brewing Co. was creating a Director of Quality position and was 'motivated' to apply.  A few weeks later I was living in Pennsylvania and finally in the beverage industry!
What do you like about your job?
I truly love the combination of art and science that goes into crafting amazing, wonderful beverages.  I get to work with my hands, which is important to me, and also because I get to bring the science that I love so much into practical use.  I also love the immediate reward aspect where, at the end of the day, I'm able to see people  enjoying the products that I've worked hard to create.
I'm sure that a "beverage scientist" is a hot career choice for many scientists who are looking to move away from the bench.  What advice would you give to someone who is looking to make this move?
I'm not sure this is a 'hot career choice' quite yet, but I do feel like employment for scientists in this sector is continuing to expand, especially with the growth of the craft brewing industry.  Many of the breweries that ten or so years ago were too small to have a budget for a scientist are now getting to the size where they can afford a full-time quality assurance person.  Most are also realizing the importance of consistency that a good, knowledgeable person can bring to a product line.
Looking back on what you have done in your career, which bits help you most in your job now?
Of course, a good, strong laboratory background is key to all of the scientific aspects of the work.  But just as important is the simple willingness to persevere in the face of hard work, and when random problems arise throughout the process that need troubleshooting – graduate school prepared me well for both of these!  Working in the biotech industry, especially at the start-up phase, taught me about the importance of teamwork in the success of a company.  I was able to gain direct experience with many of the complex facets involved in working as a team and learn how these can impact the success of a project or even an entire company.  Serenex was also my introduction to working in a professional, industry setting, which has proven invaluable for me in the customer service and other professional communication aspects that typically go along with this career.
And to sum up – what three pieces of advice would you give a scientist who might want to move into this industry?
My first piece of advice is not to be afraid to step outside of the 'box' of a traditional career – it can actually end up expanding your career and skill sets more than you may have previously thought.
My second piece of advice is network with as many people in the industry as possible – connections are key (this goes for just about any field).  You may find that you'll have to bug a lot of people and possibly even create your own position, but don't give up if you're really passionate about working in this field.
My final piece of advice goes out to anyone (in any field) and was given to me when I was young: Discover what you are passionate about and then trick someone into paying you to do it.
Do you want to ask Tim anything about a career in the brewing industry?  Just let us know –  all comments welcome.