Established in the mid 1970's, New England Biolabs, Inc. (NEB) is the industry leader in the discovery and production of enzymes for molecular biology applications and now offers the largest selection of recombinant and native enzymes for genomic research. NEB continues to expand its product offerings into areas related to PCR, gene expression, sample preparation for next generation sequencing, synthetic biology, glycobiology, epigenetics and RNA analysis. Additionally, NEB is focused on strengthening alliances that enable new technologies to reach key market sectors, including molecular diagnostics development. New England Biolabs is a privately held company, headquartered in Ipswich, MA, and has extensive worldwide distribution through a network of exclusive distributors, agents and seven subsidiaries located in Canada, China, France, Germany, Japan, Singapore and the UK. For more information about New England Biolabs visit neb.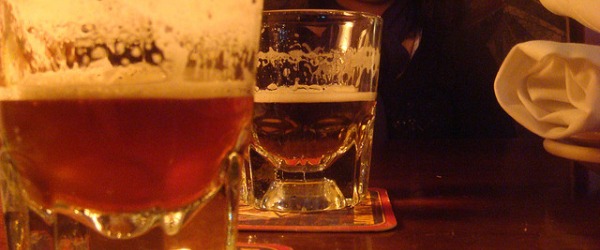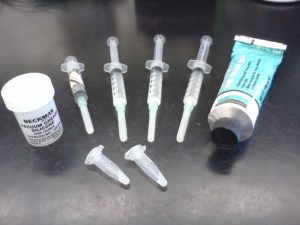 Phenol/chloroform extractions are a common lab technique to remove proteins from aqueous solutions containing DNA and RNA.  They can be tedious and a bit time consuming if you are working with a lot of samples.  And accidental carryover of phenol/chloroform can inhibit downstream applications.
Over time, I thought I had achieved some level of competency in removing most of the aqueous layer without getting any phenol or protein gunk in my sample.  But there is no harm in trying to perfect your technique, is there?
When I read Jode's article on phenol/chloroform extraction, the section on Phase Lock gel piqued my interest as it was something I had not encountered before. Essentially it is a gel that is denser then water, but less dense than buffer saturated phenol/chloroform. When centrifuged with the latter two reagents, it migrates between the phases, "locking" the organic phase at the bottom. The aqueous phase is then easily removed.
This sounded pretty great, but shelling out close to $200 for 200 samples (that's a dollar a sample!) worth of gel seemed a little steep, so I began looking for alternatives. Turns out, other Bitesize Bio readers were thinking along the same lines. Doug commented that Sigma used to hold the patent, under the name "Phase divider gel". Roberto found a very informative paper in which researchers found that using vacuum grease in phenol cleanups produced a nice interphase without degrading RNA.
I am an adventurous sort of guy and we just happened to have several jars of Beckman vacuum grease lying around the lab. After searching through some MSDSs, I managed to glean that the vacuum grease is composed of polydimethylsiloxane (dimethicone) and silicone dioxide. I also managed to find a scribbled on MSDS for Phase Lock gel that described it as a "Proprietary Mixture" of CAS#: 63148-62-9 and 112945-52-5. Not surprisingly this also works out to be a mixture of polydimethylsiloxane and silicone dioxide (I got you now, Phase lock gel!).
Armed with that knowledge I decided to give it a try! I scooped some vacuum grease into a syringe, autoclaved it and squirted some of the gel (approximately 50-100 µl) into an eppendorf tube and spun for 5 minutes at max speed to pellet the grease.  I then added my RNA-containing solution, phenol/chloroform/isoamyl alcohol and spun the mixture for 5-10 minutes at 16,000xg.
It worked excellently – the phases were well separated after centrifugation and there was little degradation of the RNA (as compared to a sample cleaned up without grease). I began using it routinely and quickly ran out…but I wanted MORE!
Next, I tried to mix up my own gel. I bought some polydimethylsiloxane (DM 350) from a cosmetic supply company and silicone dioxide from a spice store and I set to work.  At first I tried  85% DM350 and 15% silicone dioxide, roughly the same proportions cited in the MSDS of different types of vacuum grease.  Although it worked decently well (the gel migrated into the middle as expected) a bit of the liquid DM350 seemed to float on top of the gel and granules of silicone dioxide migrated down into the organic phase. I believe the trouble lies in obtaining polydimethylsiloxane with a high enough viscosity and silicone dioxide with a fine enough mesh size to keep the layer intact. I kept experimenting with different types of polydimethylsiloxane but they all failed.
At that point I broke down and bought a big ole' tube of Dow Corning High Vacuum Grease off eBay. It's the same stuff cited in the paper posted by Roberto. 150 grams cost me $30 shipped. I figure the entire tube should be good for 1000-1500 extractions in 1.5 mL tubes (assuming I use about 100 mg (50-100 µL) of grease per tube.   That's only pennies per sample!
The Dow grease worked as well as the Beckman grease and has the added benefit of coming in a tube that can be easily squirted into a syringe.
So learn from my adventures, save yourself some money, buy a big tube of vacuum grease and enjoy the nice phase separations!