Established in the mid 1970's, New England Biolabs, Inc. (NEB) is the industry leader in the discovery and production of enzymes for molecular biology applications and now offers the largest selection of recombinant and native enzymes for genomic research. NEB continues to expand its product offerings into areas related to PCR, gene expression, sample preparation for next generation sequencing, synthetic biology, glycobiology, epigenetics and RNA analysis. Additionally, NEB is focused on strengthening alliances that enable new technologies to reach key market sectors, including molecular diagnostics development. New England Biolabs is a privately held company, headquartered in Ipswich, MA, and has extensive worldwide distribution through a network of exclusive distributors, agents and seven subsidiaries located in Canada, China, France, Germany, Japan, Singapore and the UK. For more information about New England Biolabs visit neb.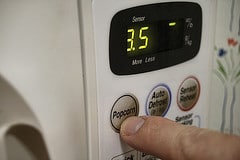 In the old days, restriction digests were a great excuse for long lunch breaks. Come back 1-2 hours later and it's done.
But, just to ruin our fun, Fermentas then NEB started to offer ranges of restriction enzymes that do their job in 5 minutes. Nothing changed with these enzymes – someone just figured out that 60-120 minutes was just a number selected at random, probably by someone who wanted a longer lunch break.
But what about this?
After a hint by a friend, I started putting my digests into the microwave oven now for 10 seconds at maximum power (700 Watts) – and it turns out that this is all that is needed for a full digest!
I've no idea why this works, but the idea doesn't seem to be that new.
The only explanation I found is that the microwaves make the molecules faster, increasing the probability that the enzymes find their sites on the DNA but that sounds a bit hand-waving to me. Heat makes molecules move faster, so the microwaves aren't doing anything special. Are they?
How do you think this works? Or, have tried this method out? I'm looking forward to your comments.
Photo: Aim and Shoot
Scroll To Top