I have a Masters in Cell and Molecular Biology from the University of Houston Clear Lake. I am currently pursuing my Ph.D. in Biomedical Sciences at the University of Central Florida. My research projects include studying the role of non-coding RNAs in prostate cancer and epigenetic regulation of microRNAs. Apart from scientific interests, I love coffee, love to travel, reading books, and binge-watching movies and series!
Articles by Kavya Ganapathy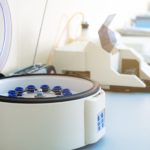 Don't let centrifugation scare you. Learn how to properly balance, when to use the brake and what the difference is between RCF and RPM!