Kavya has a Masters in Cell and Molecular Biology from the University of Houston Clear Lake. Kavya is currently nearing completion of a PhD. in Biomedical Sciences at the University of Central Florida, and her Thesis focuses on the role of non-coding RNAs in prostate cancer progression and the epigenetic regulation of specific microRNAs as a causal factor for the observed racial disparity in prostate cancer progression.
Articles by Kavya Ganapathy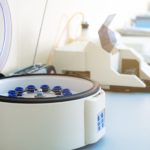 Don't let centrifugation scare you. Learn how to balance properly, when to use the brake, and what the difference is between RCF and RPM!