Serena obtained her PhD in Neuroscience/Human Medicine from the MUI in 2013, for which she was awarded the Wilhelm-Auerswald-Prize from Bayer. She is a Freelance Scientific Writer and Medical Affairs Manager for Denk Pharma GmbH & Co. KG.
Articles by Serena Quarta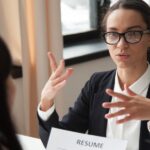 A strong research interest statement can be the difference between being considered for a position and your application ending up in the bin. Check out these tips on how to make your statement stand out from the crowd.