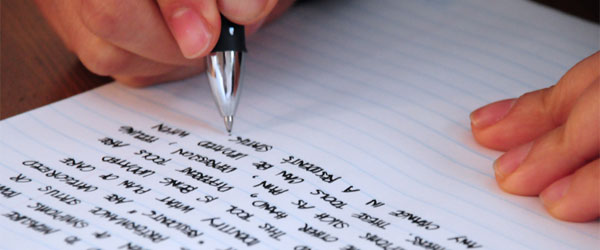 This week our careers interview focuses on medical writing and what kind of opportunities are available for anyone looking to move into this field.  Lauren Donaldson tells us how she got started out after her PhD and we'll be comparing this with a freelance medical writer in the coming weeks so keep posted.
You describe yourself as a Medical Writer and what exactly is it that you do?
I work in the Glasgow office of a global medical communications agency called Complete Medical Communications, which is part of Complete Medical Group Worldwide. Medical communications agencies provide services for pharmaceutical clients for educational and scientific publications. Different agencies provide different services; for example, some concentrate more on regulatory documentation, while others may focus on medical education and publications, or meetings.
As a Medical Writer, my role is diverse and involves working closely with authors to provide writing/editorial assistance on a range of medical communications projects, while also ensuring that all outputs meet stringent quality and good publication practice guidelines. In my current role, this tends to cover scientific abstracts, posters, slide sets, training manuals and other documentation for clinical study investigators. However, my previous role was more meetings-based, and involved working on product-related websites, symposia, congress materials and exhibition booths, and summary documents for advisory board meetings and conferences. The range and scope of your work depends on the kind of agency and account that you work on and the lifecycle stage of your product.
Would you tell us a bit about your background?
I completed my undergraduate degree in chemistry at The University of Edinburgh, where I was able to study a wide variety of subjects in the early years (biology, pharmacology, forensic medicine) along with my chemistry courses. This nurtured an interest in the application of my subject to the medical field and led me to undertake a 12-month placement at Pfizer during the fourth year of my degree, where I worked on the synthesis of potential drug candidates and learnt a lot about the pharmaceutical industry as a whole. After completion of my degree, I stayed on in Edinburgh to complete a PhD in organic chemistry. My project was at the interfaces of chemistry and biology and I was able to collaborate with both my second supervisor (who worked as GlaxoSmithKline) and the Edinburgh Cancer Research Centre on various aspects of my research.
I was lucky that my PhD supervisor invested a lot of time in developing the core skills of research group members. This gave me a thorough grounding in communicating research effectively through presentations, posters and manuscripts so by the time it came to writing my thesis, I (quite unexpectedly) found it to be a logical and enjoyable process.
Upon completion of my PhD, I looked for a position where I could combine my interests in chemistry and medicine with the writing and presentation skills I had developed during my postgraduate studies. Medical writing seemed like a perfect choice and I moved to London to work for a small medical communications firm. This gave me a fantastic overview of the industry and the opportunity to engage in many different areas of medical communications as everyone helped each other out on projects. After 18 months, I chose to move to my current role in order to focus on developing my writing skills under the large number of experienced writers we have at CMG.
What do you like about your job?
Medicine and pharmaceuticals are talked about in everyday life, whereas chemistry is much more difficult to explain due to the tiny size of the things you have to talk about! So for me, being able to explore different therapy areas and learn new facts that I can actually visualise and discuss with people, is one of the best things about my job. Coupled with that, medical writing really is a highly varied and fast-paced job. We work on multiple projects and with different clients and drugs; you never know when a last minute request may come in from a client, so boredom is very rare. It is also quite a friendly and sociable job as we tend to work in large teams in order to drive projects forwards.
Medical Writing is a hot career choice for many scientists who are looking to move away from the bench.  What advice would you give to someone who is looking to make this move?
Make the most of the writing opportunities available to you at university. This is particularly true during a PhD where you will have to produce posters, talks and reports on a regular basis. If you are lucky, you may also have the opportunity to write a manuscript or two and of course, there is no avoiding the thesis at the end! Always ask for feedback and if your supervisor is not forthcoming with this then ask someone who is. Additionally, many universities have writers or editors in-house who will check your work for clarity and who facilitate courses on writing skills.
PhDs are also a great time to gain experience in editing other people's work. This could involve proofreading work for junior lab members or just analysing why you thought one presentation or poster was better than another was. Requests to demonstrate or tutor to undergraduate students should also not be missed. These are vital opportunities to put your science communication skills into action, as well as earning a little bit of pocket money!
Make sure you also brush up on your knowledge of the pharmaceutical development process. Learning some of the terminology and understanding the basics of Phase I-IV studies will go a long way in helping you understand the type of documents you will have to write and work with.
All this experience will also come in helpful for interviews and medical writing tests. These tests vary from company to company, but in general, you can expect to complete at least one at home before the offer of an interview will be made. A second writing test is normally conducted when you attend your interview. Writing tests vary in length but usually involve writing an abstract, slide kit or patient leaflet.
Looking back on what you have done in your career, which bits help you most in your job now?
My year at Pfizer was definitely one of the biggest influences on my career. Suddenly the reason for all those hours in the undergraduate laboratory made sense and I could see the value of my subject to a practical and worthwhile purpose. I also got a great understanding of the workings of the pharmaceutical industry and gained valuable experience working in a professional team environment.
I think one of the best opportunities I had during my PhD was to write my first manuscript alongside my supervisor. We literally sat in her office and wrote each word together and that really helped me foster the attention to detail necessary for writing scientific documents.  She was also a very thorough reviewer, which helped me build up one of the key skills necessary for medical writing – the ability to deal with lots of red pen! My PhD was also a great lesson in the value of self-organisation, motivation and time keeping.
During the second year of my PhD, I led the departmental chemistry society, which involved organising regular meetings, social events and presentations from visiting academics and industrial experts. Hosting these visitors was a great way of developing the communications skills necessary to liaise with our pharmaceutical clients and their key opinion leaders.
If I asked you for a favourite quote, what would it be?
"I love being a writer. What I can't stand is the paperwork." Peter De Vries
And to sum up – what three pieces of advice would you give a scientist who is looking to move into Medical Writing?
Make sure your CV and cover letter are in tiptop shape
This is important when applying for any job, but particularly so when applying for jobs in the field of writing. Make sure your CV and cover letter are professional and well written and run both past a careers advisor or supervisor to check for clarity and spelling. Tailor each cover letter to the position you are applying for and don't be afraid to write one for speculative applications. I had a great response to all my speculative applications (this was how I found my first job!) and most will be happy to give advice and store your details on file until something comes up.
Make sure you apply to the right place
Bear in mind that different agencies do different types of medical writing. If you are looking to work on a variety of outputs, make sure that you don't inadvertently find yourself in a company that specialises in one type of writing. Also make sure that wherever you go, the right people are available to provide you with training. In my opinion, it is probably better to start at an agency that specialises in publications and medical education as there will be many experienced medical writers there to help you develop your core skills. Agencies more tailored to marketing and events-based work may provide you with a great overall view of the industry, but you are likely to miss out on vital training necessary to give you a good foundation in medical writing.
Make the most of online resources
Recruiters are always looking for new talent via LinkedIn so make sure your profile contains all the details of your writing experience and what sort of opportunities you are looking for. Remember this reflects your writing capabilities so get someone to check it over for accuracy and spelling before posting! Link up with key medical communications recruiters and HR personnel and join the many medical writing groups where new jobs are regularly posted and hot topics discussed.
FirstWord and PMlive are great sources for all the latest news from the pharmaceutical industry….and you never know what little nugget of information you might pick up to help you impress in an interview!
The website https://www.medcommsnetworking.co.uk/ is a great source of information for those looking to get into medical communications. It publishes a helpful guide to starting out in medical writing and provides details of workshops you can attend to find out a bit more. There are also job listings and a large list of medical communications agencies in case you are thinking of applying speculatively.
Good luck!