10 Links: Cell and Molecular Biology Podcasts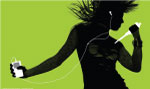 Podcasts are great. I listen to podcasts every day during my commute and find them a great way to pick up information, whether it's to learn about a new subject, brush up on something I have studied before or keep up with the news. Here are 10 molecular and cell biology related podcasts that I hope you will find useful.
1. General Biochemistry and Molecular Biology Lecture Series Podcast.
This podcast covers a lecture series given by Randy Schekman, UC at Berkeley. Randy covers topics like DNA structure. Prokaryotic and eukaryotic transcription, translation, transport and cell division.
2. Basic Cell and Developmental Biology Lecture Series.
Another UC at Berkeley lecture series, this time from David Drubin. David covers membrane structure, channels, signalling, trafficking, the cytoskeleton, signal transduction, the cell cycle, and tumorigenesis. UC at Berkeley has many other lectures available as podcasts, which are well worth taking a look at.
3. Straight talk about stem cells.
Chris Scott from Stanford describes the background, major advances and ethical issues surrounding stem cells. Scroll down the page to find the link.
4. Genetic Engineering News Podcast
This weekly podcast features interviews with leading scientists on technical and business topics. Check out their archive for some fantastic interviews including those with John C. Chaput from Arizona State University on directed evolution and Ian Wilmut of Edinburgh University on progress in stem cell research and cloning since Dolly.
5. Science and society podcasts
Conversations with leading researchers, industry executives and government officials on an array of topics including medical breakthroughs, energy and nanotechnology.
6. NIH Videocasts and Podcasts.
Weekly scientific talks by some of the top researchers in the biomedical sciences worldwide. They have a big archive and you can also watch the talks live online.
7. Microbiology Bytes Podcast
A more microbiology-orientated view, with overlaps in molecular and cell biology, from the personal blog of Dr Alan Cann of Leicester University. Topics include origins of BSE, antimicrobial peptides and viruses and cancer.
8. Douchy's biology podcast.
Douchy's podcast has a basic subject material, aimed at school biology students (and possibly early undergrad). A fun approach and easy to listen to. Nice for an easy reminder of some of the basics. Quite new, so not much of an archive.
9. Invitrogen Live Science Podcast.
This podcast seems to have stopped at the end of 2005, which is a pity really because it's archive contains some great info. The focus is on techniques in molecular and cell biology.
10. Euroscicon podcasts.
Podcasts from Euroscicon (European Scientific Conferences) meetings. The archive includes in-depth talks on stem cells, chemotaxis, flow cytometry, glycomics, tissue engineering and much more.
I have deliberately not included podcasts from major journals since I assume most people know about them. If I have missed out your favorite podcast, feel free to post it in a comment.