Established in the mid 1970's, New England Biolabs, Inc. (NEB) is the industry leader in the discovery and production of enzymes for molecular biology applications and now offers the largest selection of recombinant and native enzymes for genomic research. NEB continues to expand its product offerings into areas related to PCR, gene expression, sample preparation for next generation sequencing, synthetic biology, glycobiology, epigenetics and RNA analysis. Additionally, NEB is focused on strengthening alliances that enable new technologies to reach key market sectors, including molecular diagnostics development. New England Biolabs is a privately held company, headquartered in Ipswich, MA, and has extensive worldwide distribution through a network of exclusive distributors, agents and seven subsidiaries located in Canada, China, France, Germany, Japan, Singapore and the UK. For more information about New England Biolabs visit neb.
Isn't it a pain digesting, purifying and dephosphorylating your cloning vector prep to eliminate prevent high background in your ligation/transformation? A new generation of positive selection cloning vectors promises to eliminate all of that hassle by killing off any vector that has not taken up the insert you are trying to clone.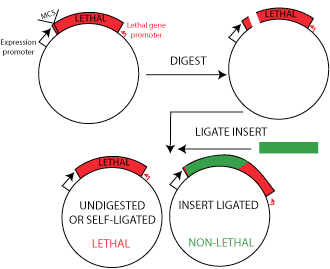 Positive selection cloning vectors are currently available from Pure Biotech, Fermentas and Genhunter to name a few.
The positive selection comes from a conditionally expressed lethal gene, such as a restriction enzyme, whose coding sequence contains the multiple cloning site. The lethal gene is disrupted by the ligation of a DNA insert into the multiple cloning site. Any undigested or self-ligated vector copies retain a functional copy of the lethal gene and are therefore selected against in the transformation.
This eliminates the need for extensive vector purification, and in fact the manufacturers say that no vector preparation is required at all for top notch cloning – just digest, ligate and transform without any purification at all and get close to 100% positive clones back. Sounds great – I think I might try it out!
Scroll To Top