As a global market leader Lumenera provides an extensive range of high quality digital cameras with unique combinations of speed, resolution and sensitivity to satisfy the demands of today's imaging applications.
Turn Your Pretty Glass Slides into Pretty Digital Slides: Digital pathology cameras from Lumenera
Content sponsored by Lumenera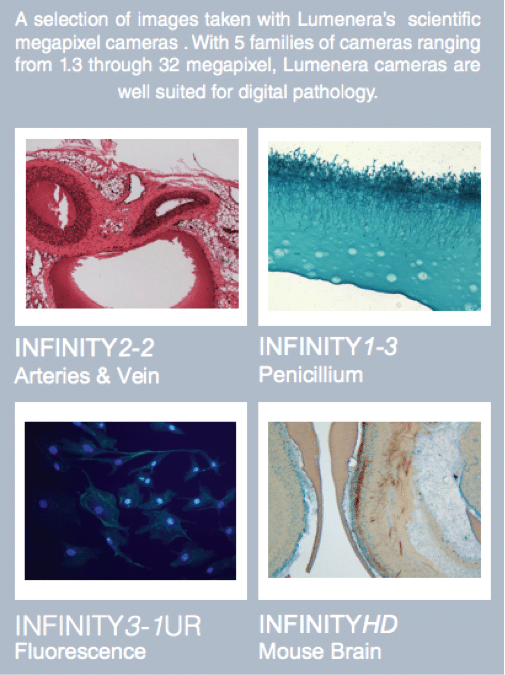 Is your pathology ready to enter the 21st Century? Do you want to digitize your pathology? Then you need a really good camera, such as those available from Lumenera.
Digital pathology is the process of converting your pretty glass slides into pretty digital slides. Digital slides have a lot of advantages. They are easier to manage, store and share. And in the clinic, digital pathology promises to provide faster, cheaper diagnoses.
But to digitize your pathology you need the right camera with the right features. To learn more about what features to consider when selecting a camera for digital pathology read my article: "Digital Pathology – why you need it and how to choose the best camera for it". If you already know what camera features to look for then you will understand why Lumenera's series of cameras is a great choice for your digital pathology needs.
An especially wise choice is Lumenera's new INFINITY3-3UR digital camera. And here is why:
The INFINITY3-3UR…
Does Color Well
What is pathology without stains? Not much. In digital pathology your camera needs to be not just good but great at capturing color. The INFINITY3-3UR is designed for use in experiments that require optimal color reproduction.
Has Low Noise
When sensitivity counts you need a low noise camera. Lucky for you Lumenera's INFINITY3-3UR delivers low noise at a fraction of the cost of other cameras.
Has Excellent Dynamic Range/Sensitivity
The human eye is really good a lowlight detection while cameras struggle to keep up. This is why your cell phone camera needs a flash when your eyes can see just fine. However, the INFINITY3-3UR camera, which uses Sony's EXview HAD ll technology, has unmatched light sensitivity and offers an extremely high dynamic range.
Has High Spatial Resolution
A camera's resolution dictates how well (or if) small details can be captured. In certain pathology stains high resolution is essential. Lumenera's INFINITY3-3UR delivers 2.8 megapixel resolution.
Has a Large Optical Sensor
If you want to see a lot of your sample (who doesn't?) then you need a good-sized sensor. The INFINITY3-3UR camera features a Sony ICX674 CCD sensorwith 2/3" optical format.
Has a High Frame Rate
Even at its highest resolution (1936 x 1456) the INFINITY3-3UR delivers reliable and fast (53 fps) images. Additionally, with 128 MB of onboard memory frame buffering it offers a smooth capturing experience. If all that wasn't enough, image transfer is also fast (5 Gbits/sec), as the INFINITY3-3UR uses the latest USB 3.0 technology.
Comes with a Great Software Package
Lumenera's cameras come with an intuitive image capture program, INFINITY CAPTURE and a full image analysis package, INFINITY ANALYZE. Thus providing you with everything you need to capture images, tile, and make measurements, enhancements and annotations. You can perform hands-free image capturing with programmable shortcuts and hands-free footswitches.
All of these features make Lumenera's INFINITY3-3UR the perfect choice for your digital pathology. But this isn't the only option – Lumenera has an extensive range of camera's to suit all needs (and budgets). Below is a brief overview of the different cameras available for digital pathology.
Highlights of Lumenera's Series of Digital Pathology Cameras: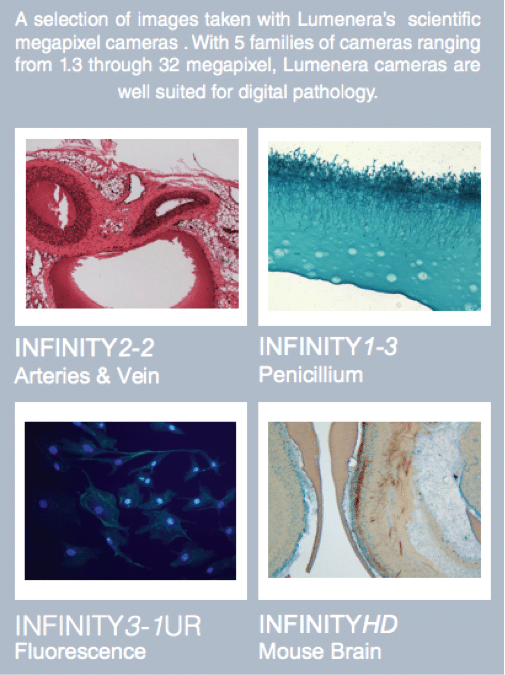 INFINITY2-1R
This camera is great if true color or low light is a concern. The INFINITY2-1R has an uncooled ½" progressive scan and a 1.4 megapixel Sony ICX205 CCD sensor.
INFINITY3-1UR
The INFINITY3-1UR camera comes with an uncooled SONY ICX285 sensor and has exceptional dynamic range, as well as low read and dark noise current.
INFINITYHD
This camera has a 1/3" (16:9) CMOS 2 megapixel sensor and offers 1080p60 high definition, superb color and lag-free previews. The INFINITYHD can also stream live video direct to monitor without a computer.
If you are interested in converting to digital pathology and need a camera look no further than Lumenera's series of digital cameras. Especially to Lumenera's INFINITY3-3UR Scientific Digital Camera with its high sensitivity, low noise and high frame rate it is sure to do the trick.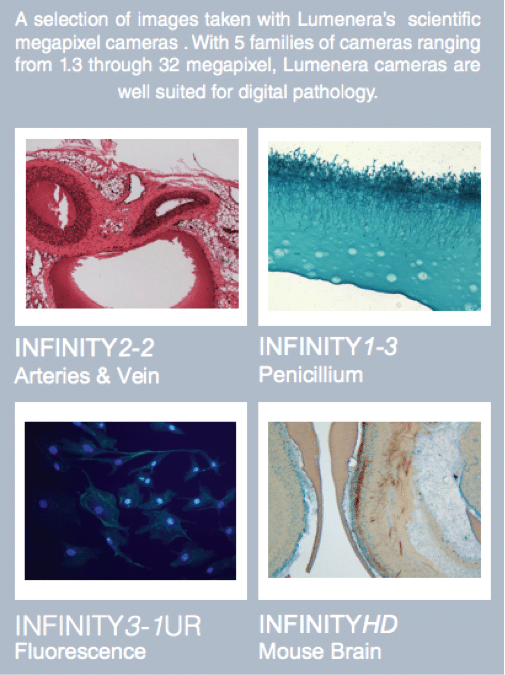 Scroll To Top