Thermo Fisher Scientific Expands Maybridge Ro3 Diversity Fragment Library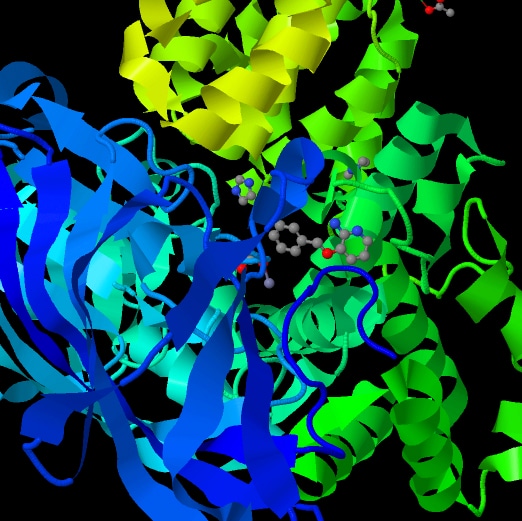 Thermo Fisher Scientific, the world leader in serving science, today announced that it has expanded its Maybridge Ro3 Diversity Fragment Library, to make it an even more powerful tool for structure-based drug discovery.
The new library adds 1,000 Ro3 (Rule of 3) compliant molecules, complementing the 1,500 compounds introduced last year. This expansion increases the diversity of the library by more than 30 percent for a significantly higher number of singletons and clusters. This expansion and future enhancements are available to Maybridge Ro3 Diversity Fragment Library users at reduced upgrade fees.
The expanded library enables a range of drug discovery programmes and is designed to support recent advancements – such as surface plasmon resonance (SPR) – that have increased the feasibility of screening larger numbers of compounds. In addition, the library's greater diversity will improve the number and quality of candidate-molecule hits, leading to more cost-effective screening.
The latest Maybridge Ro3 Diversity Fragment Library features full Ro3 compliance: all compounds in the library, both new and old, exhibit physicochemical properties that increase the probability of obtaining successful hits. The broad portfolio also includes analogues for fragment hopping, hit evolution and derivatisation. Consequently, these Maybridge Fragments provide an ideal starting point for lead selection and optimisation as part of a structure-based drug discovery programme.
The solubility of every fragment in the library has been experimentally measured to ensure that each is soluble in both DMSO (200mM) and aqueous phosphate buffer (1mM). This is essential for successful in vitro testing because poor solubility compromises the robustness of the screening data generated and can produce evolved analogues with inferior ADME properties (plasma protein binding and poor systemic distribution), which can lead to increased candidate attrition. As with the original library compounds, the new fragments have a purity of at least 95 percent.
"The Maybridge Ro3 Diversity Fragment Library is already in use in a number of labs around the world," said Simon Pearce, Maybridge product manager. "This new evolution of the Maybridge Ro3 library increases the variety and number of compounds available, promising to further enhance the effectiveness of our customer's drug discovery programmes. Current and future users will find it easy to upgrade to the latest version of the library, which is available to them at a special reduced rate. The Ro3 library will continue to evolve to meet the needs of drug discovery researchers, providing a flexible, well-qualified resource with which to identify interesting candidate molecules."
For further information, please visit www.maybridge.com.
About Maybridge
Maybridge, a Thermo Fisher Scientific brand, is well known for highly innovative drug-like molecules and screening compounds for drug discovery and development. With products available for both lab and development scale, the Maybridge line features  new heterocyclic and phenyl ring-based chemical building blocks, including a unique and expanding range of reactive intermediates. For more information about Maybridge brand products visit www.maybridge.com or call +44 18 40 77 05 67.
About Thermo Fisher Scientific
Thermo Fisher Scientific Inc. (NYSE: TMO) is the world leader in serving science. Our mission is to enable our customers to make the world healthier, cleaner and safer. With revenues of nearly $11 billion, we have approximately 37,000 employees and serve customers within pharmaceutical and biotech companies, hospitals and clinical diagnostic labs, universities, research institutions and government agencies, as well as in environmental and process control industries. We create value for our key stakeholders through two premier brands, Thermo Scientific and Fisher Scientific, which offer a unique combination of continuous technology development and the most convenient purchasing options. Our products and services help accelerate the pace of scientific discovery, and solve analytical challenges ranging from complex research to routine testing to field applications.
Visit www.thermofisher.com.