Terrorism: The Animal Research War
After some of the blog posts that I've written on animal rights' extremists and violence against animal researchers, there's now a review of a most appropriate book on the topic available in Science – Scientists Under Siege.
Suppose you are a scientist and a finalist for the position of vice president for research at the University of South Florida (USF). Before leaving for your interview trip, you receive copies of letters sent to the university's administration informing them of your "ignominy" and stating that you are unwelcome in the university's town. Animal rights activists meet your plane and (because of an open meetings law) are present at most of your interviews. Activists outside the meeting room doors lobby attendees and distribute fliers that make false and preposterous claims about your research. Demonstrators wear T-shirts demanding that you not be hired. When you deny the accusations being hurled at you, a faculty member calls you a "son of a bitch" and a liar. At your hotel room, you receive threatening calls and knocks on your door in the middle of the night. Fortunately, the campus police provide you with protection. Arriving at the airport for your return trip, you are surrounded and harassed by demonstrators until airport security rescues you. At home, you find protesters standing not far from your house, shouting at you. And USF's president now refuses to speak to you. You don't get the job.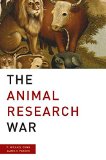 Now suppose that really happened.
This and more is the situation that animal rights' extremists have placed many biomedical researchers into. I say "and more," because P. Michael Conn didn't actually have his house firebombed, his car blown up, or been physically assaulted.
As a result, Conn has his new book out – The Animal Research War. While I haven't gotten the chance to read it, it purportedly aims to educate and inform the general public as to what actually happens with animal research.
As to what position to take on bioethical questions surrounding research, of course one should read available materials such as this book, guidelines addressing animal welfare concerns written by the National Academies of Science, and other resources. And then come to your own conclusions. If you disagree with the status quo, address them through appropriate channels, like bioethics committees.
But above all, arm yourself with the knowledge of the tactics of extremism and terrorism, so that you can work against such destructive elements and forge towards a better world.