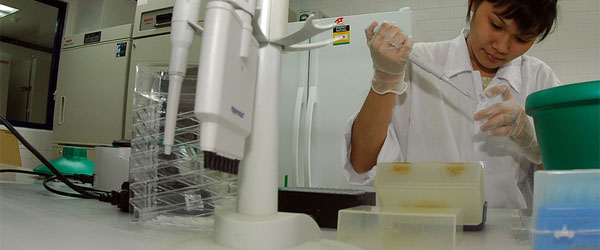 One of Bitesize Bio's regular readers asked me to interview people in jobs that don't necessarily require a PhD.  So, today I'm talking to Angela Briski who's a research technician and currently working in stem cell research.  Hope you enjoy the interview…
You describe yourself as a Research Technician.  And what exactly is it that you do?
There seem to be two brands of technician roles.  In one, you work very closely with a postdoc and act as a pair of hands to carry out the experiments they plan.  In the other, there is more independence as you are in charge of your own experiments, with postdocs and PIs giving guidance.  Both types generally involve tasks for the group as a whole (i.e. stock cell culture, purity testing, etc.)  Having experienced both, I have to say I prefer the latter.
At present, I work in a group studying progenitor cells called pericytes.  My main tasks include cell extraction, cell culture, FACS analysis and immunohistochemistry (IHC), all leading to the further characterization of these cells.   
Would you tell us a bit about your background?
I'm originally from Pittsburgh, Pennsylvania in the U.S.  I received my Bachelor's degree in Biotechnology from Pennsylvania State University.  After graduation, I worked just over a year in the Cell Therapeutics department of a biotech company in Philadelphia where we grew mesenchymal stem cells on a large scale.  Following that, I began studying for a Masters degree, also in Biotechnology, at The University of Manchester in England.  Once I had my Masters degree, I got a job as a technician at The University of Edinburgh studying stem cells for bone and cartilage repair.  Sadly, that project ended, but it brought me to my current technician post, also with The University of Edinburgh, studying progenitor cells.
What do you like about your job?
I like interacting with people of all different levels and nationalities.  It's also pretty nice when your experiments go according to plan and you produce some good results.    
Being a research technician is a good career choice for many science graduates who are looking to move into academic related jobs.  What advice would you give to someone who is looking to make this move?
I think starting as a technician is a good move.  It can definitely be used as a springboard into other roles.  Earning a steady paycheck while you develop your skills, increase your knowledge and find out what you like doing can't be bad.
If you're planning to go into a field involving cell work, courses in cell culture and aseptic technique are a must.  The earlier you take them the better.  It just becomes second nature.  Also, communication is essential so hopefully your programme will have courses such as technical writing and public speaking as part of the curriculum. Writing in sciences is a different animal and it takes practice.  As one of my instructors at uni told me, "You're not Dickens!  Leave out the flowery language."
What opportunities do you have for personal development within your job?  And where do you see yourself in 5 years from now?
Working for a university brings you into contact with very experienced scientists who can teach you a load of concepts and techniques.  You usually just have to ask nicely.  There are also training courses and lectures, which I find useful.
Hmmm, 5 years from now?  If you had asked me five years ago, I would never have guessed I'd be thousands of miles of away from my home, but you never know.  Unfortunately, in academic research, many projects only last for a few years depending on grants.   Also, I'm a special case because of my nationality.  So in five years, I imagine I'll still be in the field of stem cells and/or biotechnology, but in what capacity I couldn't tell you.  I'd like to be in a position of greater responsibility so can imaging making a move back to industry where the jobs are more permanent.
Looking back on what you have done in your career, which bits help you most in your job now?
I think the skill that I've acquired that's been most useful, but one that they don't teach you, is how to interact and cope with people, especially strong personalities.  Also, experiments rarely go off without a hitch so research has been a lesson in patience and persistence.   So I suppose just the act of gaining confidence through experience is what helps you move forward.
If I asked you for a favourite quote, what would it be?
"Life is what happens while you're busy making other plans."   John Lennon
And to sum up – what three pieces of advice would you give a science graduate who is considering a research technician post?
First, be ready to start at the bottom.  In the current market, even entry-level posts are highly applied for, so be persistent.
Get your foot in the door where you can and build up your skill set.  Ask loads of questions.
Finally and most importantly, try to be cheerful and find the humor where you can.
If you want to know about a particular person's work experience that is perhaps a little bit different from the norm, just let us know – we'd love to interview them for you.  Watch this space…