How Should We Customize Life?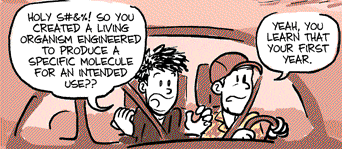 The big biotech news of the week has been the successful construction of an artificial bacterial genome by J. Craig Venter et al., chemically assembled from scratch. While the genome is little more than a watermarked version of the wild bacterium Mycoplasma genitalium, it is now technologically feasible to construct custom genomes for bacteria of our choosing. Jorge Cham of PHD Comics has the appropriate levity for the situation: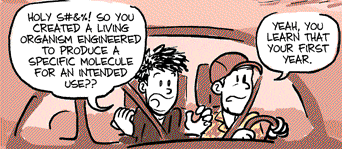 However, as George M. Church, a professor of genetics at Harvard Medical School, noted, "Right now, all they've done is shown they can buy a bunch of DNA and put it together." Let's assume though that the constructed genome however is functional, and everything works fine. They should have no problem transplanting the bacterial chromosome into a host bacterium, as they've done that before (last year).
So, how then should we customize a bacterium, now that we can construct a bacterial genome from scratch? Will Venter, and other biotech corporations, develop bacteria that can do it all, so to speak? For instance, they could splice together genes for toxic and/or radioactive chemical cleanup, sewage treatment, pest resistance for agriculture, biofuel production, and pharmaceutical drug production. The utility of such promised tools will advance these areas (waste management, agriculture, energy, health) very significantly. Other areas of our lives could be greatly impacted as well, including some so novel and unexpected that we cannot possibly foresee.
What other functions should be considered in choosing how to customize life? This is a major question that the next generation of biotech innovators should be asking themselves. If I had a good answer, I probably wouldn't share it here, that's for sure, because any of the not-so-obvious uses for synthetic life will be extremely profitable, I think. Venter doesn't appear to have an answer, conceding that, "Now our synthetic capability way outpaces our understanding of what we want to do."
I think it safe to suggest that the malevolent uses of synthetic life would be negligible, due to low-likelihood of out-competing wild bacterial populations. This appears to be the rule – that domesticated life, at all trophic levels, looses the ability to compete in the wild; and synthetic life, unlike domesticated life, has the added difficulty of never having been exposed to the natural environment at all. Yes, it's possible and precautions should and will be taken, but synthetic biological threats will be greatly exaggerated, mark my words.
And lastly, what of the next step – synthetic eukaryotes?