Make Your Lab Life Easier with LabLife.org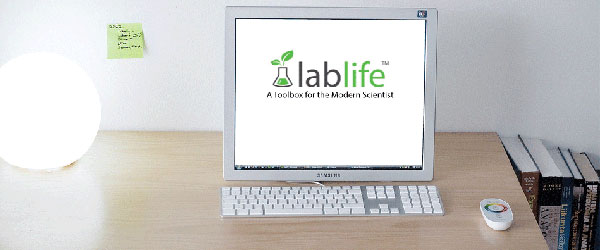 You know you've been there. That one super productive post-doc who breezed into and out of your lab in two years is now gone, and you realize you need one of the constructs she made. You know there's a tube full of the plasmid you need,somewhere.
By the time you've looked through three freezers and 100 boxes, you begin to wonder if you should have just remade the plasmid yourself.
If you haven't been in this position, or if you haven't inadvertently put someone in this position, it's probably only a matter of time before you are.
Every scientist has fallen victim to Lack of Lab Organization at one time or another. Having to search for reagents that you know you have is frustrating at best, but it can be disastrous when an important experiment relies on you getting your hands on a certain chemical right now.
Enter LabLife, a free online inventory program for scientists.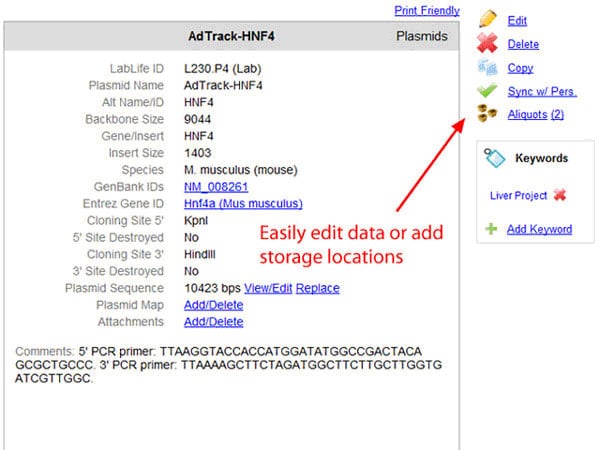 Online Inventories for all of your Stocks
Regardless of what you want to organize, LabLife can help. Plasmids, proteins, cell lines, chemicals – fill in as much information as you want for any given item and enter its location with an easy-to-use storage tool. Trying to keep track of your mice, flies, fish, or worms? LabLife gives you the means. Does your lab have an ancient 3-ring- binder filled with water-stained, torn protocols? LabLife can help with that, too.
And the virtual inventories are just one set of tools in the toolbox that is LabLife. But before we get into the other tools, I should disclose something.
I helped design LabLife. As a senior scientist at Addgene the non-profit repository, my colleagues and I needed tools geared towards scientific work that would help us organize, analyze, and collaborate. So we built them. Pretty soon our customers told us that they have the same needs and loved AddGene's tools. We decided to help and LabLife was born.
Analysis Tools
Working at Addgene, I can say with some authority that DNA analysis is super important. As an Addgene scientist, I do a lot of plasmid quality control, which means a lot of sequence analysis.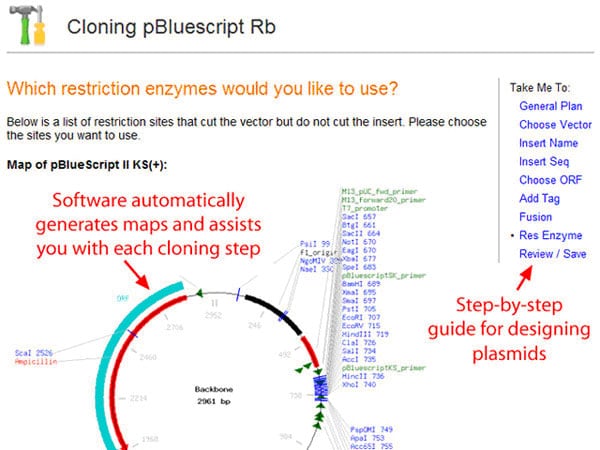 I use LabLife every day for sequence analysis, and here's why: it's really, really easy. Everything I need is at my fingertips: map-making, BLAST searches, alignment tools, restriction digests, translation,everything.
There's also a "Create Plasmid" tool that is the easiest cloning program I've used in over ten years of Molecular Biology research. And it's free to anyone in academia or a non-profit organization. That's more than some other popular cloning/sequence analysis programs can say *cough*, Vector NTI, *cough*.
Sharing Stuff with Your Colleagues is Easy

There is really no point in analyzing or storing information if you can't eventually share said information with your colleagues.
You can keep personal inventories, but when it's time to share with the rest of the lab (or time to leave the lab), you can move everything over to the lab inventories, which anyone within your lab can access.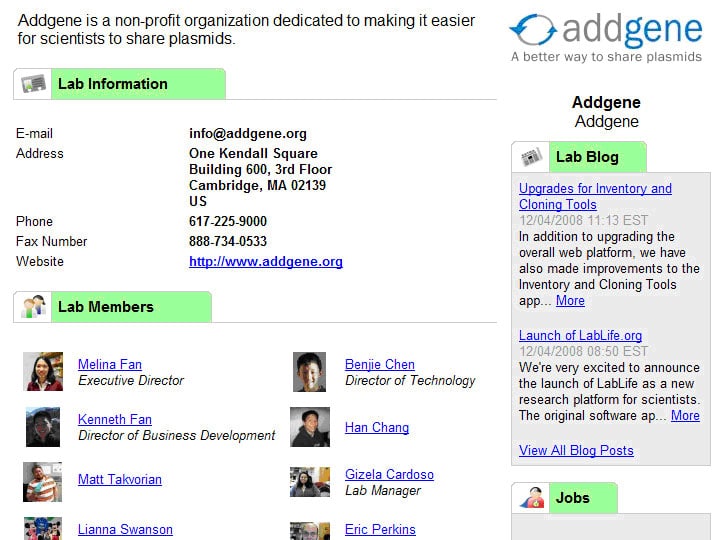 More Communication Tools for Your Lab
The lab workspace also has a number of communication tools, including an announcements feature and a virtual whiteboard.
At the next level, the community page, a lab can share its information with,well, everybody. For labs that were never lucky enough to have that one grad student with way too much time on his hands to put together a lab web page, LabLife is the answer.
A LabLife lab webpage can be a true collaborative effort for lab members, and its creation is not a time sink for people who would rather focus on their research.
Tell Us What YOU Need!
The most important thing to remember about LabLife is that it's growing and evolving, and now that the program is heading into a full-scale launch, we'd like to announce that LabLife is open for business and ready to take suggestions.
Is there a field in the virus inventory that you think would be really useful, an entire inventory category that we missed altogether or do you have an idea that would make the cloning tools even easier? Let us know.
LabLife is a set of tools for scientists, created by scientists. The toolbox will get bigger, but not without your help.

What the Early Adopters Say
It's easy for me to blather on about how useful LabLife is – its creation has been part of my life for nearly a year now. What about the early adopters who have been using LabLife for a few months?
They come from all over the world and from every career stage, and they seem to like what they see:
"I think lablife is great. I use it daily, either to glance at protocols, or to keep track of the subcloning that I'm doing right now. It's a replacement for a lab reagents database, that is both better and requires less maintenance than one administered by lab members."
–Steve Ogg (Principle Investigator), Institute of Medical Biology, Singapore
"I strongly believe in LabLife's potential to provide creative solutions to enhance user experience and also its ability to contribute towards efficient lab management practices."
-Sapna Sharma (lab manager), Tufts University
"LabLife is a great, free on-line utility that has made information sharing amongst our lab much more effective."
– Jonathan Meuser (grad student), Colorado School of Mines
There you have it, from Singapore to the Colorado School of Mines, scientists think LabLife is great.
Check it out now and let us know what you think.
This is a guest post, written by Eric Perkins of Lablife.org and AddGene.org